11月14日,由中国贸促会主办的企业"走出去"培训暨清洁能源产业投资说明会在山东威海荣成举行。荣成市市委副书记、市长郑跃文出席会议并致辞。
仲欧脱碳科技就"中国企业在欧盟电气化和脱碳进程中的贡献和机遇"发表了演讲。贸促会官员、有关部门、驻外使领馆,众多企业代表等120余位嘉宾,以及2000余人线上参加了会议。
On November 14, "Go Global" Training and Briefing on Investment in Clean Energy Industry, organized by the China Council for the Promotion of International Trade (CCPIT) was held in Shandong Weihai, Rongcheng. Rongcheng Deputy Secretary of the Municipal Party Committee and Mayor Zheng Yuewen attended the meeting and delivered key remarks.
China Europe Carbon Neutral delivered a speech about the "Contributions and Opportunities for Chinese companies in the EU electrification and decarbonization process." The meeting was attended by over 120 guests plus over 2,000  people on line, including  CCPIT officials, other relevant authorities, embassies and consulates, and a large number of companies representatives.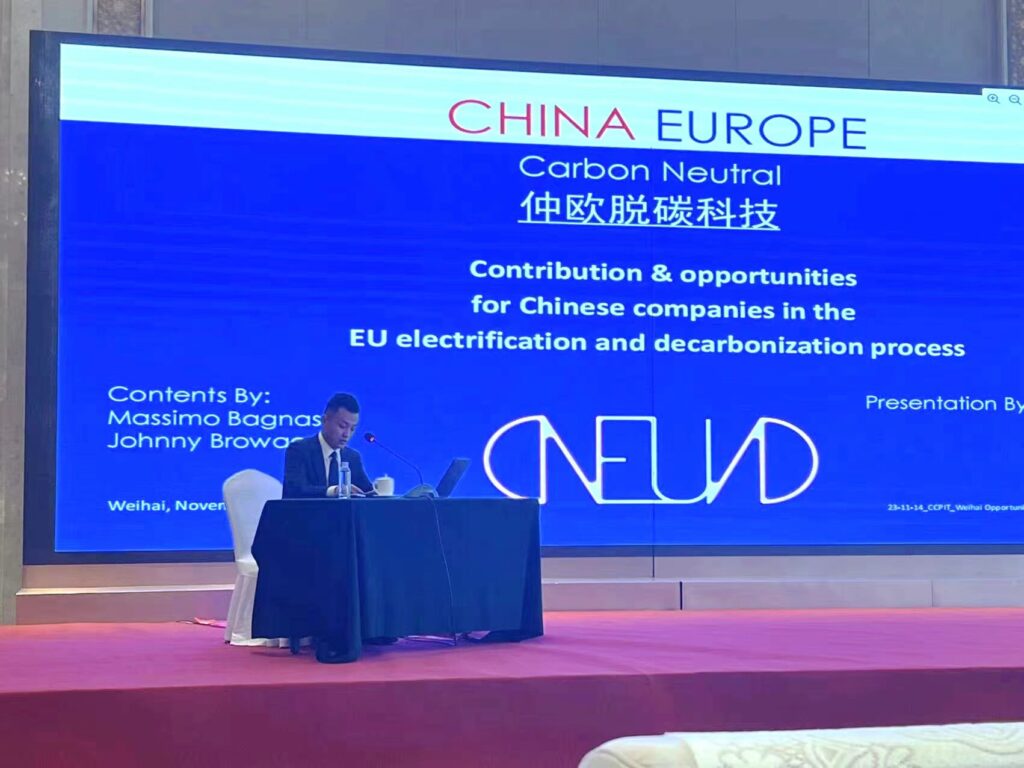 荣成市市长郑跃文在致辞中强调,荣成将"加快打造'国际能源谷',实现绿色低碳高质量发展。下一步,我市将以此次活动为契机,进一步统筹推进高水平开放和绿色低碳高质量发展,加大招商引资力度,打造产业共同体合作共赢。"
Mr. Zheng Yuewen, Rongcheng's Mayor, in his speech underlined that Rongcheng will: "accelerate the creation of an "international energy valley" for green, low-carbon and high-quality development. In the next step, our city will use this event as an opportunity to further coordinate the promotion of high-level opening up and green, low-carbon and high-quality development, increase efforts to attract talents and investment, and build an industrial community of win-win cooperation."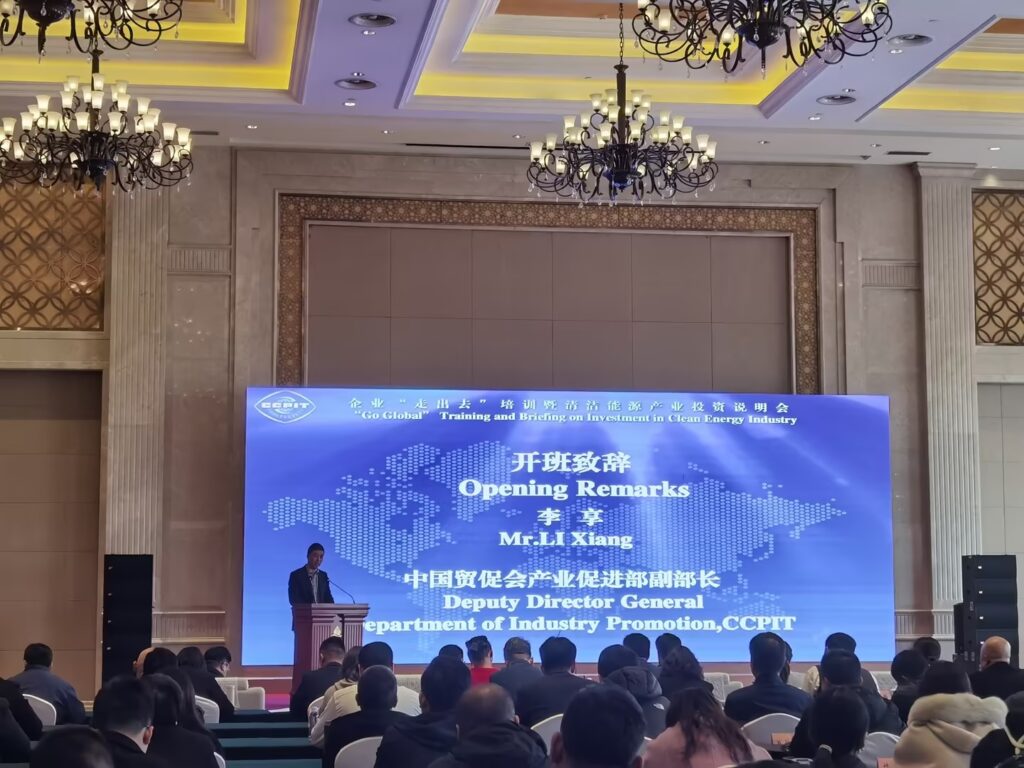 中国贸促会产业促进部副部长李享在致辞中表示: "本次培训聚焦清洁能源产业发展新趋势,邀请业内知名专家围绕"中国企业'走出去'形势及政策"、以及"境外投资实操及成功案例分享"等专题进行授课,将进一步激发中小企业发展活力,赋能新能源产业转型升级,为我国企业"走出去"提供有益参考。"
Mr. Li Xiang, CCPIT Deputy Director General in the Department of Industry Promotion, said in his speech: " This training focused on the new trends in the development of the clean energy industry and invited well-known experts in the industry to focus on "Chinese enterprises 'Go Global' situation and policies", and "overseas investment practical operations and Teaching topics such as "Sharing Successful Cases" will further stimulate the development vitality of small and medium-sized enterprises, empower the transformation and upgrading of the new energy industry, and provide useful reference for Chinese enterprises to "Go Global". "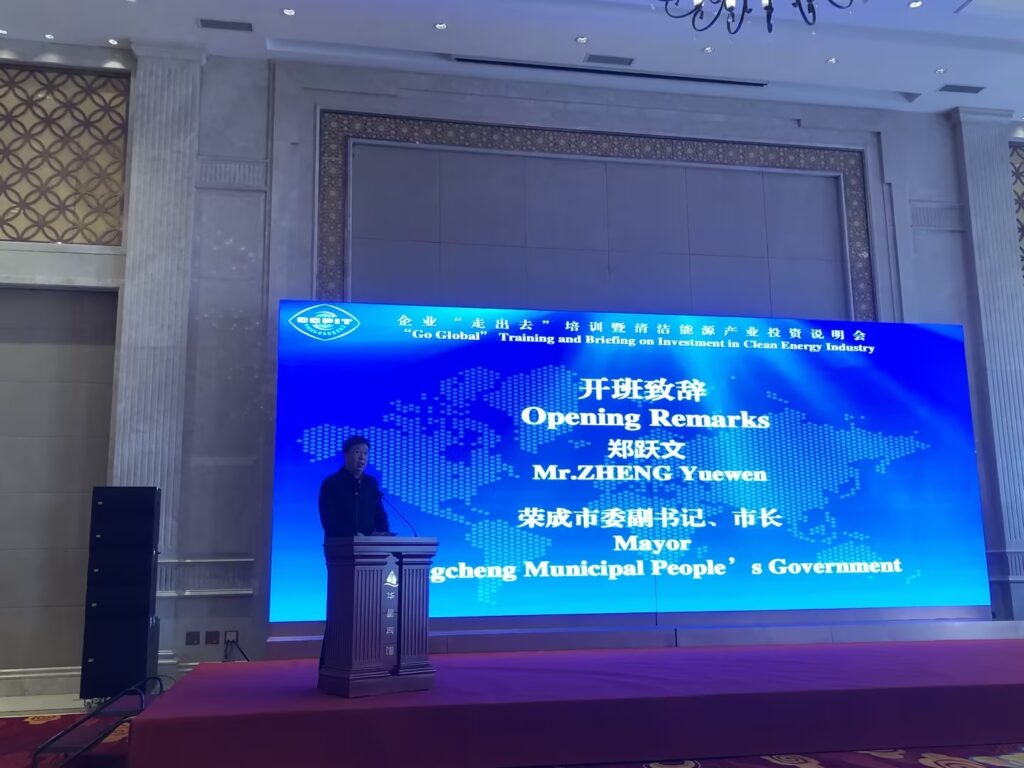 在国家投资政策及投资环境推介环节中,仲欧脱碳科技项目总监张长城介绍了"中国企业在欧盟电气化和脱碳进程中的贡献与机遇"。张长城在演讲中提到:"中国和欧洲在应对气候变化相关问题上有着长期的合作,并达成了进一步加强共同努力的坚实共识。近几个月来,中国和欧州交流密切,多位欧盟高层官员访华,高层官员的到来以及即将举行的中欧领导人会晤,清楚地表明了欧盟愿意继续与中国进行开放和建设性对话的真诚意愿。"
During the sharing about National Investment Policies and Investment Environment, Mr. Zhang Changcheng, Project Director of China Europe Carbon Neutral (CNEUCN), introduced the "Contributions and Opportunities for Chinese companies in the EU electrification and decarbonization process."
Mr. Zhang mentioned in his speech: "China and Europe have long-term cooperation on issues related to addressing climate change, and have reached a solid agreement to further strengthen joint efforts. In recent months, China and Europe have had close exchanges, and many EU senior officials had missions to China.  The arrival of high-level officials to China and the upcoming China – EU Summit, are clear evidence of European Union's sincere willingness to continue an open and constructive dialogue with China."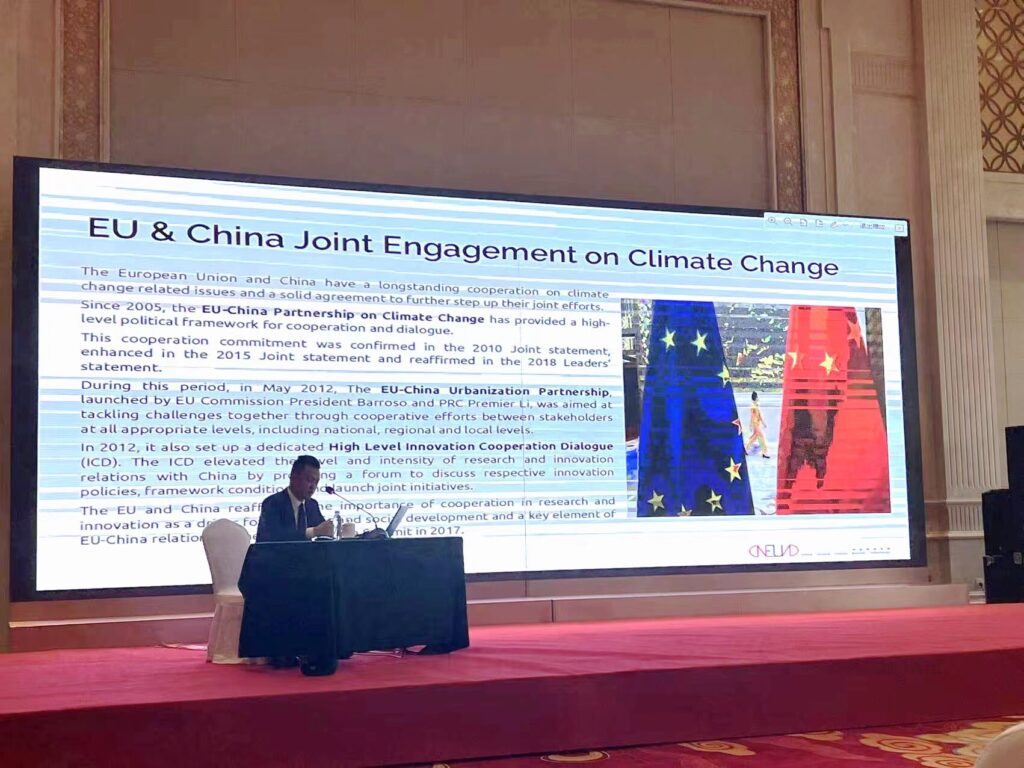 张长城还表示:"脱碳是深化中国和欧洲合作的关键议题。双方都做出了正式承诺,并制定了严格的脱碳目标。未来欧洲企业对环保设备的需求将持续增加。此外,中欧循环经济谅解备忘录第二个五年延长,也预示着未来几年中欧合作将更加紧密。这也反映了中欧在促进经济循环以支持全球可持续发展和繁荣的共同愿景和利益,即,向可持续、高效、循环经济的转型是必要且可能的。这将产生绿色技术,旨在更快的脱碳,同时确保资源更加多样化并提供供应安全。每个伙伴经济体都将利用其在新的绿色技术供应链中的比较优势。其目的是补充而不是替代中国的供应链,因为这两者都需要满足全球(包括中国)对绿色技术不断增长的需求。在这一转变中,欧洲企业能提供可靠、先进、可持续解决方案信誉和专业知识将与市场需求高度契合,这一举措将在技术援助、支持试点测试最佳实践中突出,还将创造更多新的就业机会和更大的繁荣。"
Furthermore he said: "Decarbonization is a key issue for deepening cooperation between China and Europe. Both have made formal commitments and set strict decarbonization targets. In the future, European companies' demand for environmental protection equipment will continue to increase. Furthermore,  the second five-year extension of the China-EU Circular Economy Memorandum of Understanding, it also indicates that China and Europe will cooperate more closely in the next few years. This also reflects the efforts of China and Europe to promote economic circulation to support global sustainability. A shared vision and  interest in development and prosperity, i.e., a transition to a sustainable, efficient, circular economy, is necessary and possible. This will generate green technologies aimed at faster decarbonization while ensuring greater resource diversity and providing security of supply. Each partner economy will leverage its comparative advantage in new green technology supply chains. The aim is to complement, not replace, China's supply chains, as both are needed to meet growing global (including China) demand for green technologies. In this transformation, the credibility and expertise of European companies to provide reliable, advanced and sustainable solutions will be highly aligned with market needs. This initiative will be highlighted in technical assistance, support for pilot testing of best practices, and will also create more new jobs and greater prosperity. "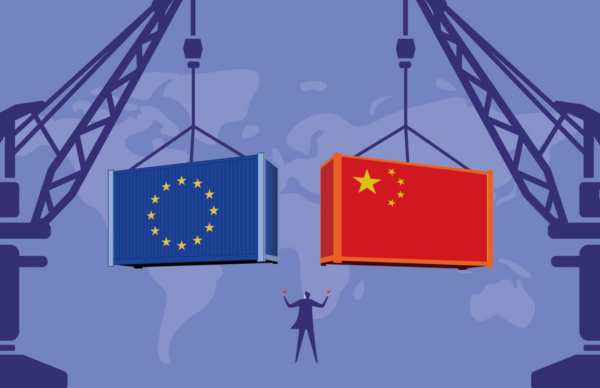 引用近期欧盟能源专员西姆森10月11日在北京华北电力大学的讲话,她强调了欧洲市场提供的巨大机遇:"我们的目标是确保我们的净零技术制造能力达到欧盟每年部署相应技术需求的至少40%。
这意味着至少60%可能来自欧洲以外。例如,我们的目标是到2030年太阳能光伏发电量达到600吉瓦,我们预计欧洲生产商最多将达到30吉瓦。
更大的一部分将由国际市场提供。众所周知,中国迄今为止拥有世界上最大的光伏制造能力。"
Quoting the recent speech made by DG Energy Commissioner Simson at the North China Electric Power University Beijing on October 11th, she highlighted the great opportunities that European's market offers: "We have a target to ensure that our netzero technologies manufacturing capacity reaches at least 40% of the Union's annual deployment needs for corresponding technologies.
This means that at least 60% may come from outside Europe. For example, we have a target of 600 GW of solar PVby 2030, and we project that European producers will cover at best 30GW.
The much larger part will be provided by international markets. China, we all know, has by far the largest
manufacturing capacity in the world on PV."
随后,欧盟中国商会近日发布的报告证实,在欧盟中资企业在单一市场总体经营良好、稳定。近90%的受访企业表示2022年收入将实现增长,高于上一年的80%。其中约 58% 预计 2023 年收入将增长,高于去年的 40%。事实上,83%的受访企业确认对欧盟市场仍然有信心,并将继续扩大业务。气候变化挑战、绿色转型与发展是中欧合作的重点议题。调查显示,76%的中国企业认为未来五年中欧推进绿色经济的伙伴关系将持续改善。其中 90% 的受访者表示,绿色经济带来的机遇多于挑战,或者两者兼而有之。
Then, the recently released report by the China Chamber of Commerce to the EU (CCCEU) confirmed that Chinese enterprises in the EU generally have sound and stable operations in the single market. Nearly 90 percent respondent enterprises report revenue growth in 2022, higher than the 80 percent of the year before.
About 58 percent of them expect their revenue to grow in 2023, higher than last year's 40 percent. Actually, 83 percent of respondent enterprises confirm that they still have faith in the EU market and will continue to expand their presence.
Climate Change challenge then green transition and development is key cooperation topic between China and the EU. According to the survey, 76 percent Chinese enterprises believe that the China-EU partnership in advancing green economy will continue to improve in the coming five years. 90 percent of them report that green economy will bring more opportunities than challenges or a mixture of both.
仲欧脱碳科技致力于继续积极贡献和支持中欧在碳中和、环境保护、能源、交通、废物、水和综合规划领域的专业知识、技术需求和双边报价之间的对接。
China Europe Carbon Neutral is committed to continue to actively contribute and support the matchmaking between the expertise, technology demands and offers bilaterally coming from China and from Europe in the field of carbon neutrality, environmental protection, energy, mobility, waste, water and integrated planning.
END
如想了解更多信息和更多详情,请联系: [email protected]
For more information and further details please write to: [email protected]
仲欧脱碳科技有限公司中欧碳中和可持续城市发展平台项目将由为此项目成立的同名私营公司运营,旨在通过聚集各方优势,针对每一个课题制定出量身打造的解决方案,以全面和包容的工作方式为中国的碳中和之路添砖加瓦。
仲欧脱碳科技 有限公司该平台将发挥积极和创新的作用,为实现碳中和所需的构想、塑造、设计和实现转型提供服务。
China Europe Carbon Neutral Technology aims to support and substantially contribute to China and Europe path towards carbon neutrality in a holistic and inclusive way by gathering all the stakeholders and creating solutions for each challenge.
China Europe Carbon Neutral Technology will play an active and innovative role in providing services to conceive, shape, design and accomplish the transitions needed to achieve carbon neutrality.