由浙江省文化和旅游厅、湖州市人民政府共同主办,湖州市文化广电旅游局、湖州市南浔区人民政府联合承办的"2022长三角乡村文旅创业创新运营设计大赛"决赛已于近日举行。结合专家评审和大众投票得分, 仲欧脱碳科技荣获2022长三角乡村创业创意运营设计大赛一等奖。
Co-sponsored by the Zhejiang Provincial Department of Culture and Tourism and the Huzhou Municipal People's Government, the final of the "2022 Yangtze River Delta Rural Cultural Tourism Entrepreneurship Innovation Operation Design Competition" was recently held.Combining the scores of expert review and public voting, China Europe Carbon Neutral Technology (CNEUCN) won the first prize of the 2022 Yangtze River Delta Rural Entrepreneurship Creative Operation Design Competition.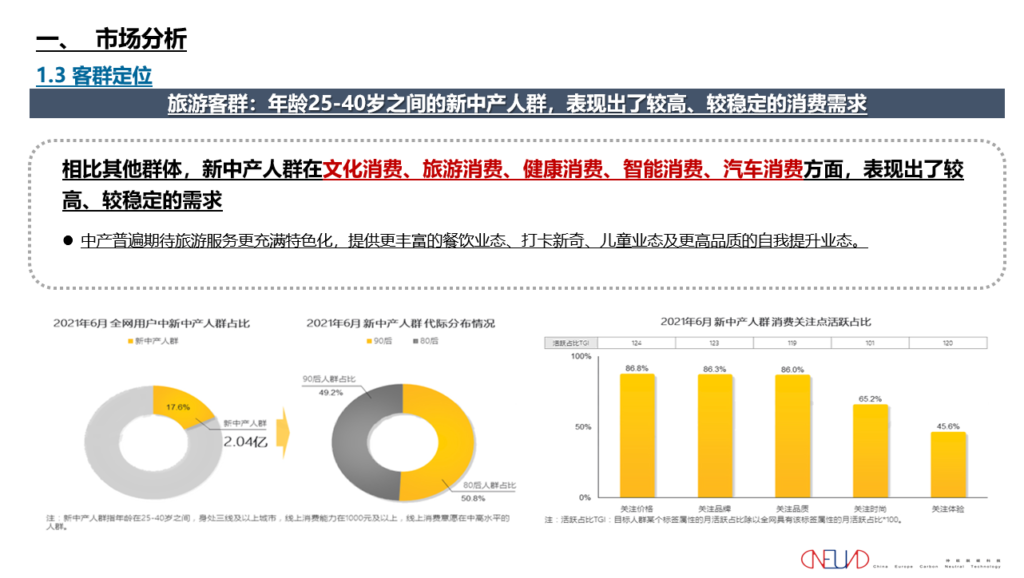 在市场方面,长三角因为其丰富的人文生态旅游资源,其旅游发展在全国占主导地位。主要的客群是25到40岁之间的新中产人群,他们在文化、旅游、健康消费表现出较高、较稳定的需求,期待特色的、丰富的、高品质的旅游产品。
In terms of market, the Yangtze River Delta has a leading position in tourism development in the country because of its rich cultural and eco-tourism resources. The main customer group is the new middle-class people between the ages of 25 and 40. They have higher expectation and requests in culture, tourism, and healthy consumption, and they look forward to distinctive, rich, and high-quality tourism products.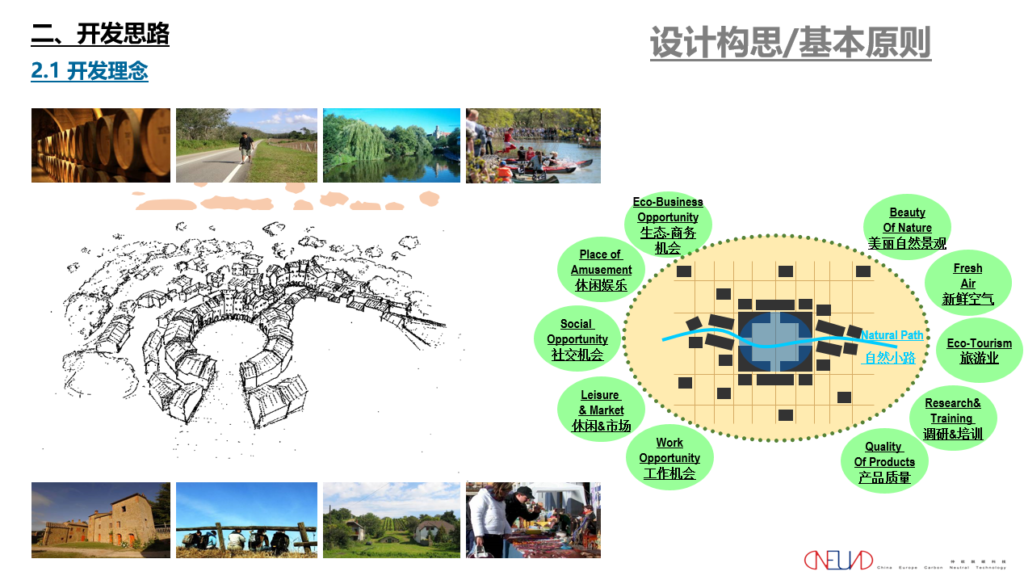 最重要的是引入"生态农业区域"的开发理念,通过连接、投资、乡村生活和景观等要素结合,实现农村和城市的平衡协调发展。主要包括生态旅游、高质量餐饮与有机食物,从农家乐发展到乡村种植、乡村愿意、教育培训、以及手工艺和传统等要素。
A key matter is to introduce the development concept of "ecological agricultural area", and realize the balanced and coordinated development of rural and urban areas through the combination of elements such as connection, investment, rural life and landscape. It mainly includes ecotourism, high-quality catering and organic food, from farmhouse development to rural planting, rural willingness, education and training, as well as handicrafts and traditions and other elements.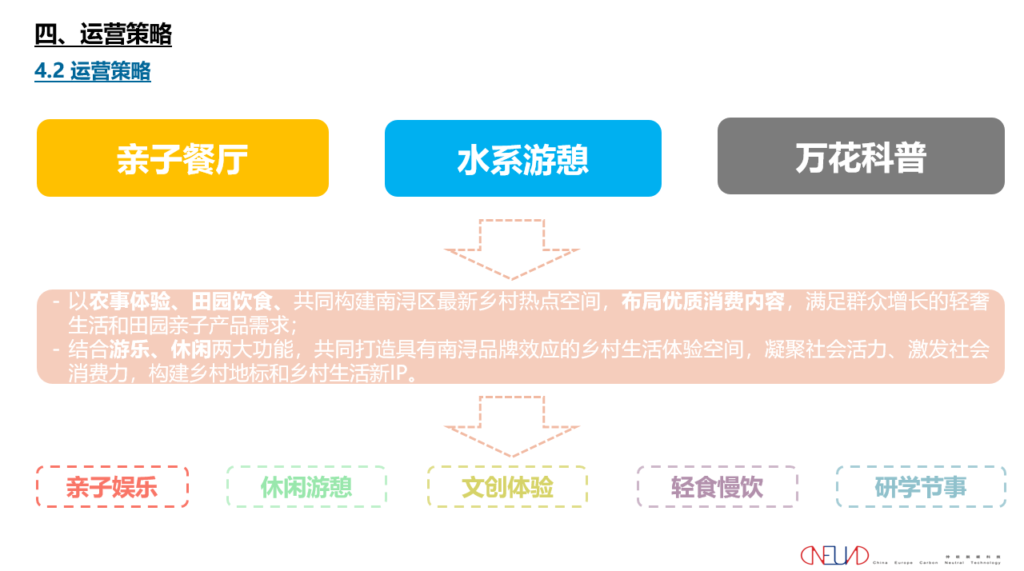 乡村旅游是乡村振兴战略总体布局的重要一环。基于可持续发展、人与自然协同共生的开发理念,瞄准25-40岁的新中产人群,在花园湾村策划打造"生态农业区"。本项目由精品民宿、水系游憩、自然餐厅、农事体验四大类产品组成,包括二十余种项目业态,目的打造要素流通、开放包容的亲子休闲度假环境,共建持续创新、生态永续、村民受益的花园湾村乡村旅游生态圈。通过"4P"营销手段,结合线上为主,线下为辅的双渠道,夯实基础客源。为游客提供一个释放压力、休闲度假的乡村生活体验空间,激发社会消费力,构建乡村地标和乡村生活新IP。
Rural tourism is a fundamental element of the overall layout of the rural revitalization strategy. Based on the development concept of sustainable development and the symbiosis between man and nature, aiming at the new middle-class people aged 25-40, it plans to build an "ecological agricultural area" in Huayuanwan Village. This project is composed by four categories of products: boutique homestay, water recreation, traditional restaurant, and farming experience, including more than 20 types of project formats. The rural tourism ecosphere of Huayuanwan Village benefiting the villagers. Through "4P" marketing methods, combined with online-based and offline-assisted dual channels, the basic customer source has been consolidated. Provide tourists with a rural life experience space to release stress and relax, stimulate the consumption power, and build rural landmarks and new IP of rural life.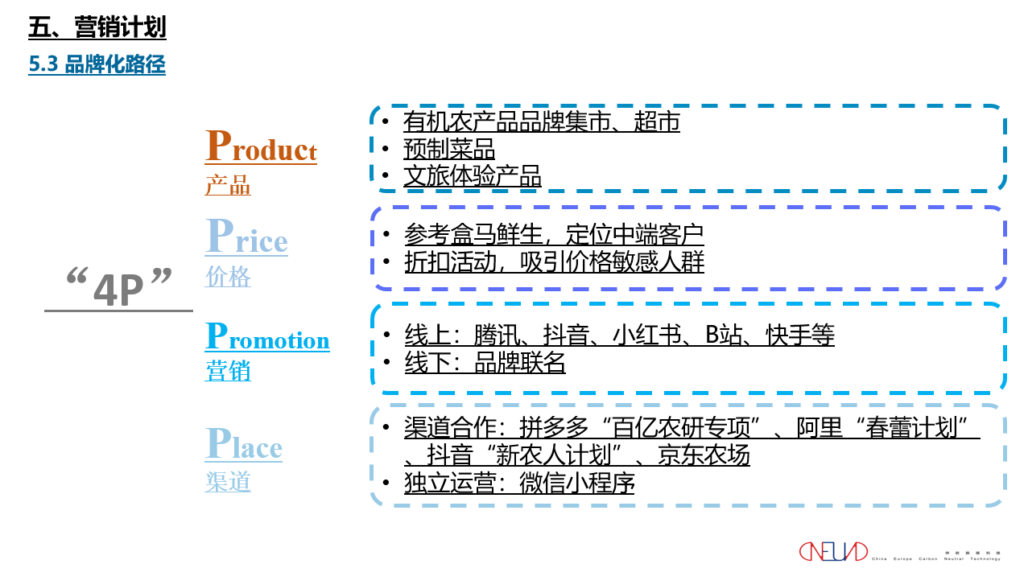 END
如想了解更多信息和更多详情,请联系: [email protected]
For more information and further details please write to: [email protected]
仲欧脱碳科技有限公司中欧碳中和可持续城市发展平台项目将由为此项目成立的同名私营公司运营,旨在通过聚集各方优势,针对每一个课题制定出量身打造的解决方案,以全面和包容的工作方式为中国的碳中和之路添砖加瓦。
仲欧脱碳科技 有限公司该平台将发挥积极和创新的作用,为实现碳中和所需的构想、塑造、设计和实现转型提供服务。
China Europe Carbon Neutral Technology aims to support and substantially contribute to China's path towards carbon neutrality in a holistic and inclusive way by gathering all the stakeholders and creating solutions for each challenge.
China Europe Carbon Neutral Technology will play an active and innovative role in providing services to conceive, shape, design and accomplish the transitions needed to achieve carbon neutrality.