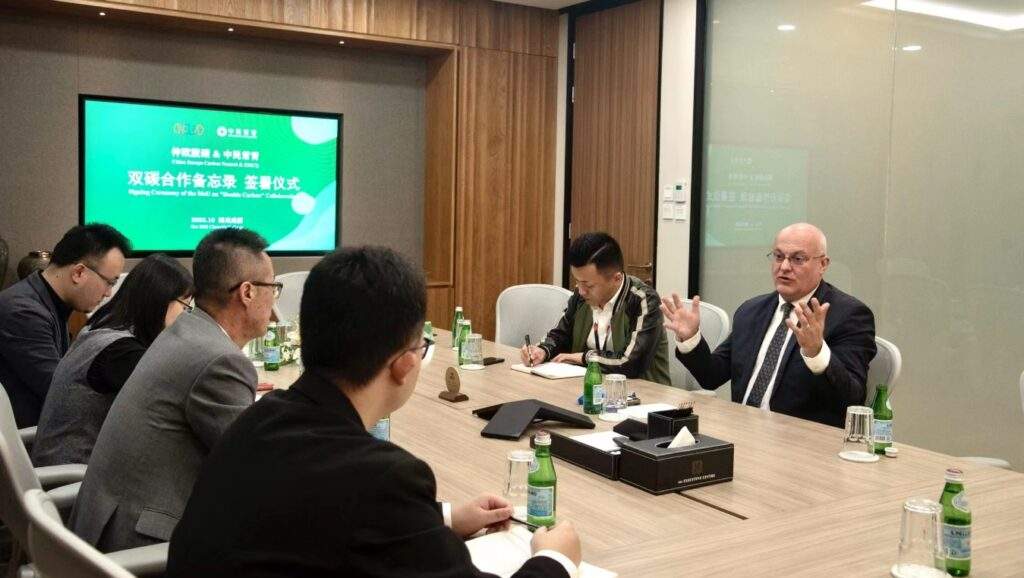 欧洲是碳市场建设的先驱者,已走过四个发展阶段,是目前全球最大的区域碳市场,而中国在此领域还处于探索阶段,还存在较大发展空间。双方将合作引入欧洲成熟行业的"碳足迹"和"碳标签"标准,共同探索与欧盟实现碳标签互认的实施路径,为尽早促成中欧互利共通的碳关税机制而努力。
Europe is the pioneer of carbon market construction. It has gone through four stages of development and is currently the world's largest regional carbon market, while China is
still in the exploratory stage in this field, and there is still a lot of room for development. The two sides will cooperate to introduce the "carbon footprint" and "carbon label" standards of mature European industries, jointly explore the implementation path of mutual recognition of carbon labels with the EU, and work hard to promote a mutually beneficial carbon tariff mechanism between China and Europe as soon as possible.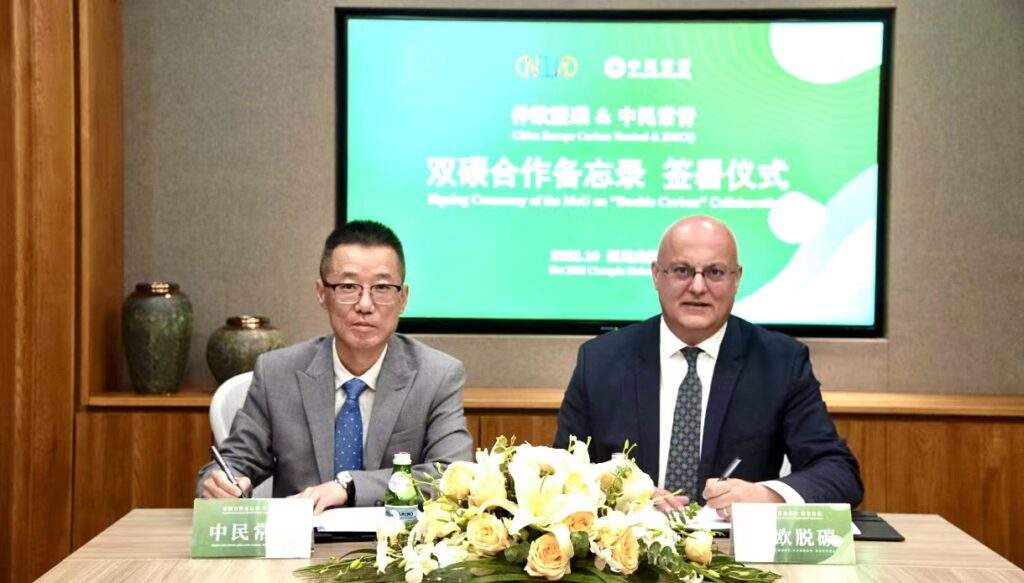 10月27日,仲欧脱碳科技(成都)有限公司与中民常青低碳科技有限公司,共同签署《双碳合作备忘录》,围绕减碳战略与技术、碳标签互认及碳人才培养等开展深度合作。
On October 27th 2022, China Europe Carbon Neutral Technology (Chengdu) Co., Ltd. (CNEUCN) and Zhongminchangqing Low Carbon Technology Co., Ltd. (ZMCQ) jointly signed the  Memorandum of Understanding on "Double Carbon" Strategic Cooperation to carry out in-depth cooperation around carbon emission reduction strategies and technology, carbon labeling mutual recognition and carbon talent training.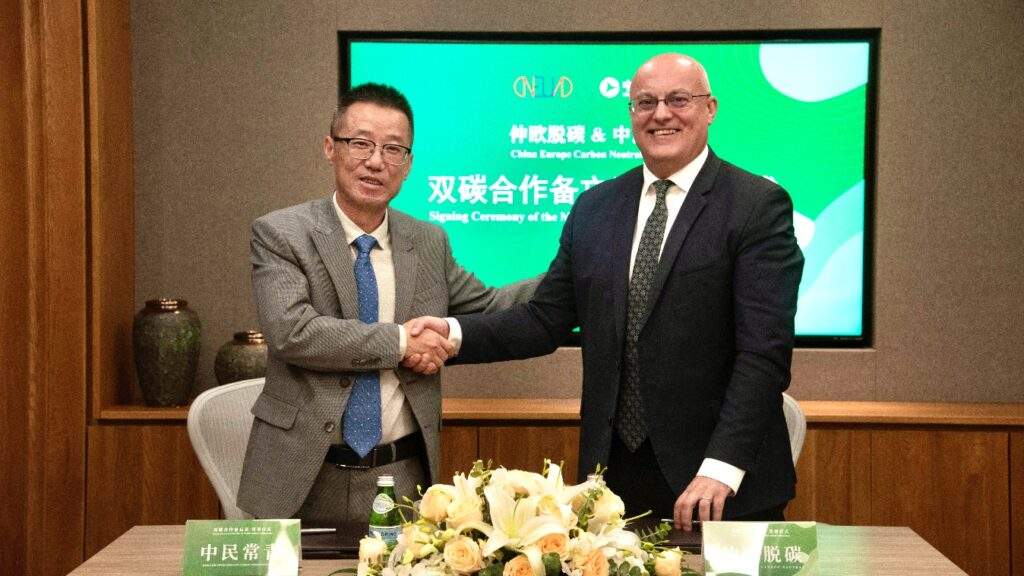 现阶段,各行各业对降碳节能相关技术充满预期。这不仅符合中国"双碳"目标逐步探索与落地的实际需求,享受政府专项扶持;同时,减碳战略和技术的合作交流也能加速中国相关产业的发展和升级。
At this stage, all walks of life have full expectations of carbon reduction and energy conservation technologies. This is not only in line with the actual needs of China's gradual exploration and implementation of the "double carbon" goal, but also enjoys special government support. At the same time, the cooperation and exchange of carbon reduction strategies and technologies can also accelerate the development and upgrading of related industries in China.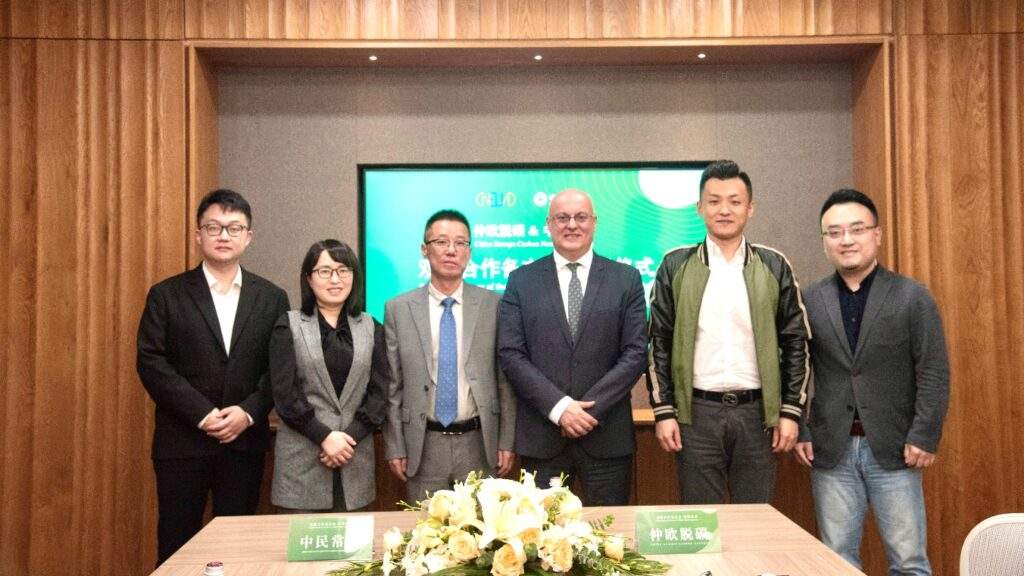 努力培养高素质双碳人才是实现"双碳目标"的有力保障,双方将通过整合国内外优质课程资源,在碳中和人才的培养方面展开探索与合作。
Efforts to cultivate high-quality dual-carbon talents is a strong guarantee for the realization of the "dual-carbon goal". The two parties will explore and cooperate in the cultivation of carbon-neutral talents by integrating domestic and foreign high-quality curriculum resources.

中民常青低碳科技有限公司成立于 2018 年,位于四川省成都市高新区,是一家专注于低碳环保的创新型企业。中民常青业务涵盖五大版块:碳足迹和碳标签、碳中和、碳资产开发、低碳咨询与培训、脱碳万家平台运管。
中民常青是中日韩碳标签互认标准创建筹备委员会成员,中国碳标签产业联盟理事单位,中国工信部中小企业低碳产业推广单位,天津碳排放权交易所综合会员单位,四川联合环境交易所经纪会员单位,成都一带一路出口产品碳标签制定理事单位,是中国为数不多的可提供碳中和全链条服务的专业公司。
Zhongmin Changqing Low Carbon Technology Co., Ltd. (ZMCQ) founded in 2018, located in Chengdu High-tech Zone, Sichuan Province. It is an innovative enterprise focusing on low carbon and environmental protection. Zhongmin Changqing (ZMCQ) business covers five major sectors: carbon footprint and carbon labeling, carbon neutrality, carbon credit development, low-carbon consulting and training, and "DeCarbon+" platform operation and management.
Zhongmin Changqing (ZMCQ) is a member of the preparatory committee for the establishment of China-Japan-Korea carbon label mutual recognition standards, a director unit of China Carbon Label Industry Alliance, a low-carbon industry promotion unit for SMEs of the Ministry of Industry and Information Technology of China, a comprehensive member unit of Tianjin Carbon Emissions Exchange, Sichuan United Environment Exchange Brokerage Member Unit, Chengdu One Belt One Road export product carbon label formulation governing unit. It is one the few professional companies in China that can provide carbon-neutral full-chain services.
END
如想了解更多信息和更多详情,请联系 [email protected]
For more information and further details please write to: [email protected]
​
仲欧脱碳科技有限公司中欧碳中和可持续城市发展平台项目将由为此项目成立的同名私营公司运营,旨在通过聚集各方优势,针对每一个课题制定出量身打造的解决方案,以全面和包容的工作方式为中国的碳中和之路添砖加瓦。
仲欧脱碳科技 有限公司该平台将发挥积极和创新的作用,为实现碳中和所需的构想、塑造、设计和实现转型提供服务。
China Europe Carbon Neutral Technology aims to support and substantially contribute to China's path towards carbon neutrality in a holistic and inclusive way by gathering all the stakeholders and creating solutions for each challenge.
China Europe Carbon Neutral Technology will play an active and innovative role in providing services to conceive, shape, design and accomplish the transitions needed to achieve carbon neutrality.