令人瞩目的三合一电站投入使用,拥有令人难以置信的隐藏功能:"全新的工业模式"
A significant breakthrough in the green energy industry, and the world's largest "salt-solar complementary" power station has successfully connected to the grid for electricity generation in Tianjin.
A solar power station in China has a remarkable three-in-one function: It generates clean energy, produces salt, and breeds shrimp.
绿色能源产业重大突破,世界单体容量最大"盐光互补"电站于天津并网发电。
中国的一座太阳能电站拥有卓越的三合一功能:它能够产生清洁能源、生产盐还有养殖虾。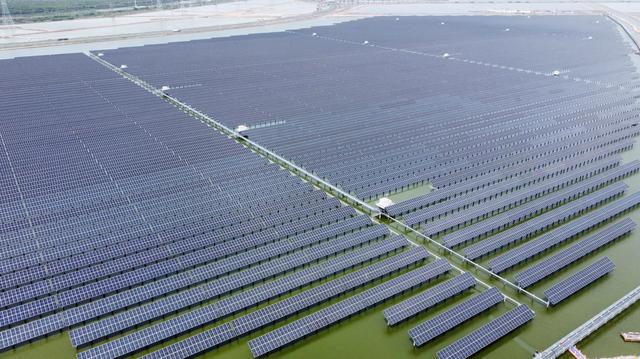 来源:新华社
Source:the Xinhua News Agency
The China Huadian Corporation's Huadian Tianjin Haijing station, which is controlled by the Chinese government, will tentatively generate about 1.5 billion kilowatt-hours of electricity annually, which is enough energy to power 1.5 million Chinese households.
中国华电集团的华电天津海景电站,由中国政府控制,预计每年将暂定产生约15亿千瓦时的电力,足以为150万中国家庭供电。
The station's solar panels span over five square miles (13 square kilometres) across a prominent salt farm, the Changlu salt fields. These panels are spaced 46 feet (14 meters) apart — which is about double the usual amount — to allow room for sun-based salt making and can receive both direct sunlight and reflected light from the water below the panels.
该电站的太阳能电池板横跨一个著名的盐场,长卢盐田,占地五平方英里(13平方千米)。这些电池板间距46英尺(14米),是通常的两倍左右,以便进行以太阳能为基础的制盐,既能接受来自电池板下方水面的直射阳光,也能反射光线。
Chinese CCTV claims that the three-in-one plant is the largest single-unit power station in the entire world. The station went online on July 8, according to CCTV, and it should decrease the country's carbon pollution by 1.25 million tons — and save 500,000 tons of coal — every year.
Expanding the planet's clean energy capabilities is vital to slowing its dangerous overheating.
央视声称,这座三合一电站是全球最大的单体电站。根据央视的报道,该电站于7月8日上线,它将每年减少该国125万吨的碳排放,并节省50万吨煤炭。
扩大地球的清洁能源能力对于减缓其危险的过热至关重要。根据能源信息管理局的数据。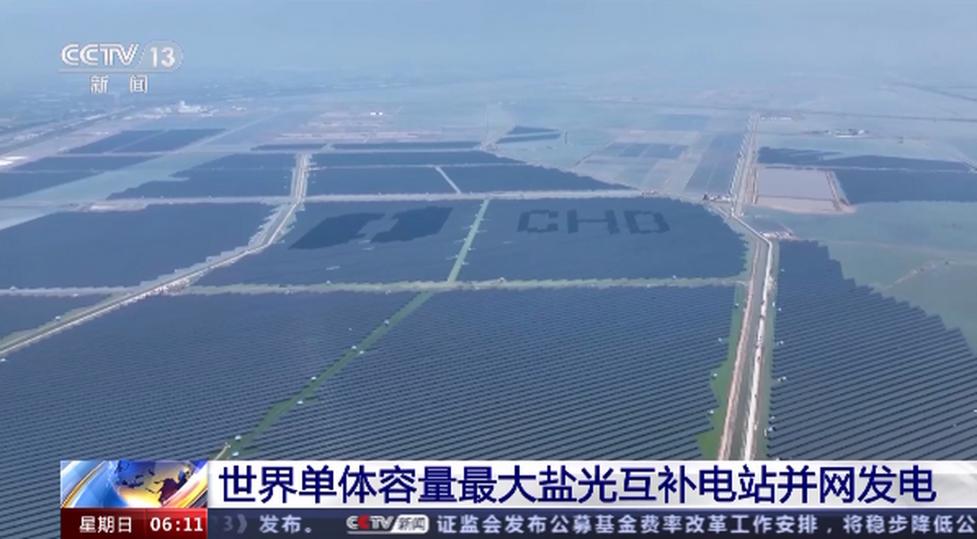 "After the project is put into operation, a total of 1.5 billion kilowatt-hours of green electricity will be produced every year from the salt field that is over 1,300 hectares, which will further promote the green energy transformation in north China and drive the internal circulation of the regional industrial chain," said Yang Fan, the chief engineer of the project, in translation in the CCTV video. "At the same time, the project will realize a new composite industrial model of floating photovoltaic power generation, brine evaporation, and aquaculture."
"项目投入运营后,每年将从占地超过1,300公顷的盐田产生总共15亿千瓦时的绿色电力,这将进一步推动中国北方的绿色能源转型,促进地区工业链的内部循环。"该项目的首席工程师杨帆在央视视频中表示,"同时,该项目将实现一种新的复合工业模式,包括浮动光伏发电、卤水蒸发和水产养殖。"
Integrated solutions for renewable energy application are becoming more and more important to provide multiple solution and contemporary reach several targets.
综合的可再生能源应用解决方案变得越来越重要,以提供多种解决方案并同时达到多个目标。
FuturaSun, one among CNEUCN business partners, since 2008 operate to produce innovative and high-performance solution solutions for photovoltaic modules. Thanks to their long-standing experience, FuturaSun's modules stand out for their quality, excellent yields even at low irradiation and high temperatures, long guarantees and market-leading performance stability.
FuturaSun,作为CNEUCN的业务合作伙伴之一,自2008年以来一直致力于生产创新和高性能的光伏模块解决方案。 凭借他们长期的经验,FuturaSun的模块以其质量出众、即使在低辐射和高温度下也能获得出色的产量、长期保修和市场领先的性能稳定性而脱颖而出。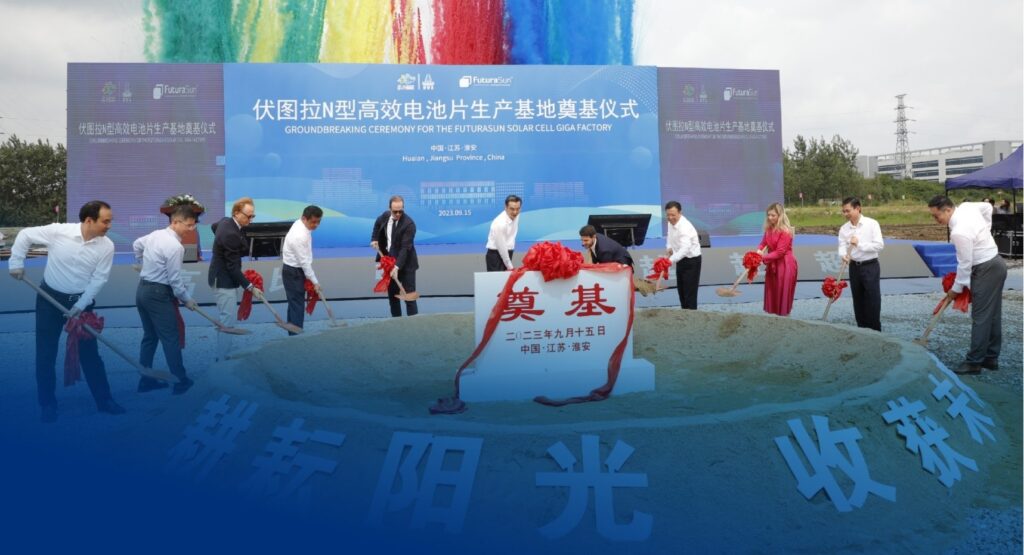 On September 14th it was hold the "first stone lying ceremony" for its cutting-edge solar cell gigafactory located in Huai'an, Jiangsu province. Once completed, FuturaSun's new manufacturing plant will stand proudly beside its existing counterpart in Taizhou, achieving an astounding annual production capacity of 10 GW. This state-of-the-art facility will specialize in the production of cutting-edge N-type, Bifacial, and Interdigitated Back Contact (IBC) solar cells, leveraging a highly automated production process.
9月14日,位于江苏省淮安的一家尖端太阳能电池吉加工厂举行了"铺首石仪式"。一旦完工,FuturaSun的新制造工厂将与其现有的太仓工厂傲然并肩,实现惊人的年产能达10吉瓦。这一现代化工厂将专门生产尖端的N型、双面和互连反接(IBC)太阳能电池,利用高度自动化的生产工艺。
The expansion not only signifies FuturaSun's commitment to advancing renewable energy but also strengthen its supply chain, ensuring strict quality control, continuous innovation, and steady procurement capabilities across both its Chinese and European facilities.
这一扩展不仅表明了FuturaSun在推动可再生能源方面的承诺,还强化了其供应链,确保了其中欧两地设施的严格质量控制、持续创新和稳定的采购能力。
仲欧脱碳科技有限公司中欧碳中和可持续城市发展平台项目将由为此项目成立的同名私营公司运营,旨在通过聚集各方优势,针对每一个课题制定出量身打造的解决方案,以全面和包容的工作方式为中国和欧洲的碳中和之路添砖加瓦。
仲欧脱碳科技 有限公司该平台将发挥积极和创新的作用,为实现碳中和所需的构想、塑造、设计和实现转型提供服务。
China Europe Carbon Neutral Technology aims to support and substantially contribute to China and Europe path towards carbon neutrality in a holistic and inclusive way by gathering all the stakeholders and creating solutions for each challenge.
China Europe Carbon Neutral Technology will play an active and innovative role in providing services to conceive, shape, design and accomplish the transitions needed to achieve carbon neutrality.