慢食理念
Slow Food's Philosophy
慢食运动是一个全球性的草根组织,于1989年在意大利成立,旨在防止当地食物文化和传统的消失,唤起人们对自己所吃的食物的来源和影响的关注。
Slow Food is a global, grassroots organization, founded in 1989 to prevent the disappearance of local food cultures and traditions, counteract the rise of fast life, and combat people's dwindling interest in the food they eat, where it comes from, and how our food choices affect the world around us.
慢食运动的核心理念是优质、干净、公平。这意味着我们应该选择那些对我们身体有益、对环境友好、对生产者公正的食物。慢食运动鼓励我们享受食物的多样性和美味,同时也尊重食物背后的故事和价值。慢食运动还致力于保护和传承那些面临消失的地方品种、传统制作方法和知识。
The core philosophy of Slow Food is good, clean, and fair. It means that we should choose food that is good for our bodies, friendly to the environment, and fair to the producers. Slow Food encourages people to enjoy the diversity and deliciousness of food while honoring the stories and values behind it. Slow Food is also committed to preserving and passing on local varieties, traditional preparation methods, and knowledge that are at risk of disappearing.
2016年,慢食中国携国内慢食代表团亮相意大利都灵·大地母亲品味沙龙,并在之后一年的第七届国际慢食全球大会,将慢食运动的焦点首次走进亚洲来到中国,来自全球92 个国家近500 名代表齐聚成都 成都被授予全球首个"慢食之都"称号. 2017 年被媒体称之为"慢食中国元年"
In September 2016, representatives of Slow Food Great China participated in the Terra Madre Taste Salon.
A year later the 7th Slow Food International Congress entered Asia for the first time in Chengdu. Nearly 500 representatives from 92 countries around the world gathered in Chengdu, Chengdu and was awarded the title of the world's first "Slow Food City". 2017 was also regarded as "Slow Food China's first year" by the media.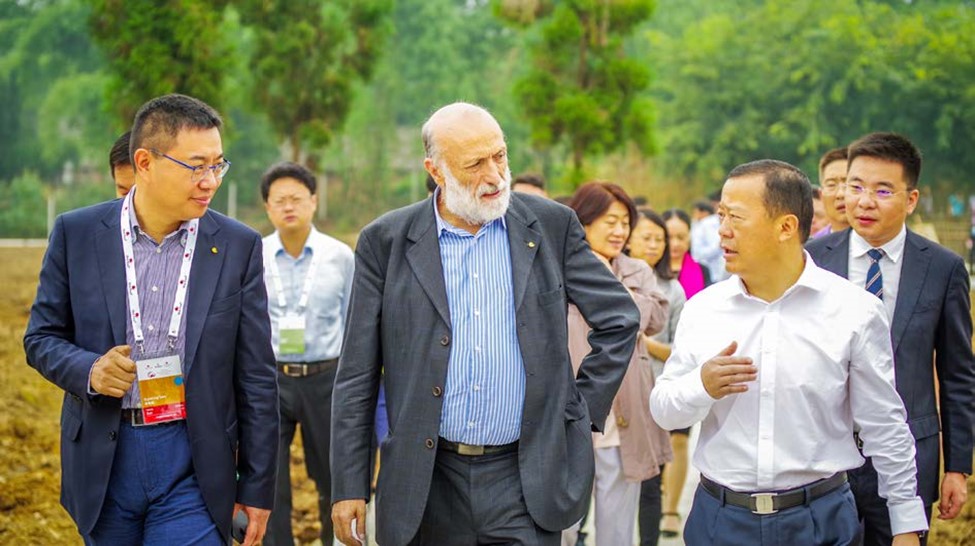 慢食运动的发展
Slow Food Today
目前,慢食运动已经发展成为一个涉及160多个国家、数百万人参与的社会运动。它通过各种项目和活动来实现其理念,例如地球市场、味道方舟、慢食保护区w Food Presidium)、慢食厨师联盟(Slow Food Chefs Alliance)、非洲菜园(Gardens in Africa)、慢鱼(Slow Fish)、母亲大地(Terra Madre)等。这些项目和活动旨在支持当地农民、渔民、牧民、厨师、教育者和消费者,建立一个更可持续、更公正、更健康的全球食物系统。
Today, Slow Food has grown into a social movement involving millions of people in over 160 countries. It realizes its philosophy through various projects and activities, such as the Earth Market, the Ark of Taste, the Slow Food Presidium, the Slow Food Chefs Alliance, Gardens in Africa, Slow Fish, Terra Madre, etc. Slow Fish, Terra Madre, etc. These projects and activities aim to support local farmers, fishermen, pastoralists, chefs, educators, and consumers to build a more sustainable, just, and healthy global food system.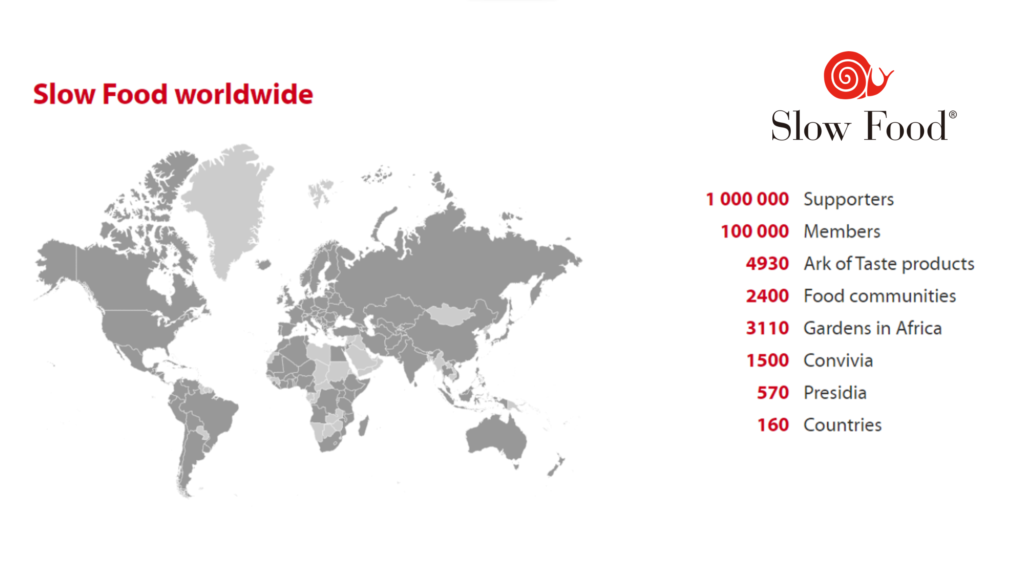 慢食运动与乡村振兴政策
Slow Food and China's Rural Revitalization Policies
慢食运动对食物产地,即乡村的保护和发展,与近年来中国政府提出的乡村振兴政策有着许多交集。两者均强调对地方食物文化、传统制法、历史民俗的保护和传承。同时还致力于为根据乡村的本土特色,打造现代IP和营销模式,使乡村在保留原有的风土人情基础上,能够通过现代化的设计,得以高质量发展。
Slow Food approach to the protection and development of food-producing regions, i.e. villages, has many intersections with the rural revitalization policy proposed by the Chinese government in recent years. Both emphasize the preservation and transmission of local food culture, traditional methods, and historical folklore. At the same time, they are also committed to creating modern IP and marketing models based on the local characteristics of the countryside, so that the countryside can be developed in a high-quality manner through modernized design while retaining its original customs and traditions.
慢食运动所倡导的有机农业、绿色农业、循环农业等生态友好型农业,与乡村振兴政策中,深入推进农业供给侧结构性改革的指导意见相吻合。慢食运动还着重打造乡村自己独特的品牌,也与乡村振兴政策中,推动品牌打造,构建现代乡村产业体系的指导意见相符。
Slow Food supports the development of organic agriculture, green agriculture, recycled agriculture, and other eco-friendly agriculture, which is in line with the policy of revitalizing the countryside and the guidance of further promoting structural reform of the agricultural supply side. Slow Food also focuses on building unique brands in the countryside, which is also in line with the policy of rural revitalization, which promotes branding and the construction of a modern rural industrial system.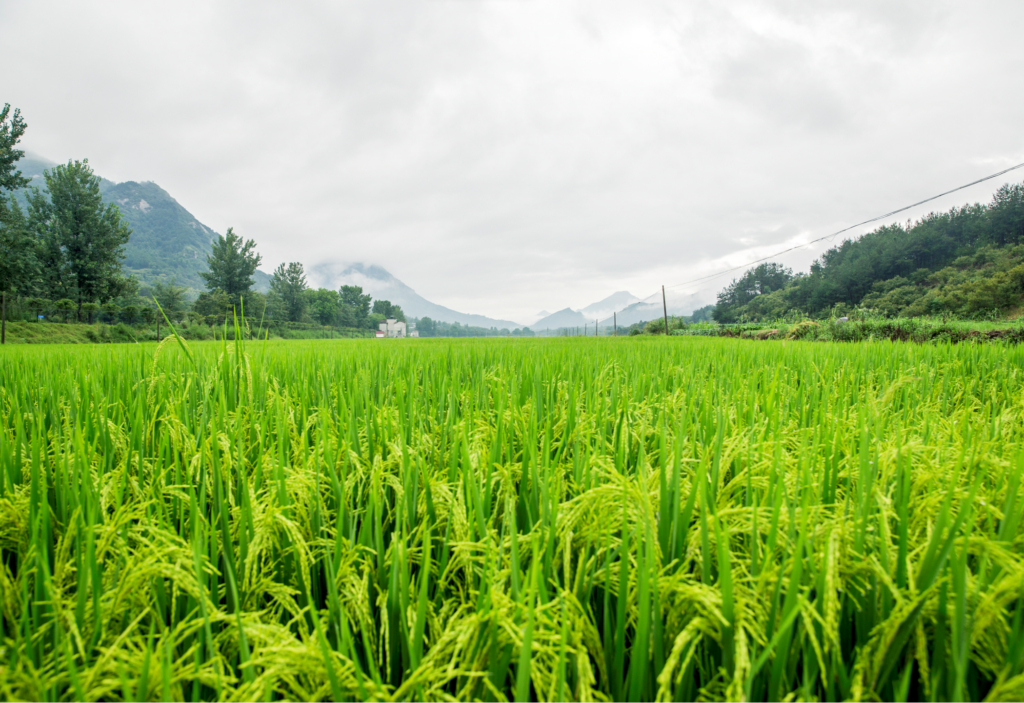 此外,慢食运动与中国的乡村振兴政策都将帮助增收和提高幸福感,列为了主要目标之一。慢食运动支持通过建立公平合理的市场价格机制,保障农民种植、加工传统食物的收入。这与乡村振兴政策中,加大对农民的扶持力度、提高农民参与现代化建设的能力和水平,提升农民获得感、幸福感、安全感的意见,保持高度一致。
In addition, both Slow Food and the China Rural Revitalization Policy list helping to increase incomes and a sense of well-being as one of their main goals. Slow Food supports the establishment of a fair and reasonable market price mechanism to guarantee farmers' income from growing and processing traditional foods. This is highly consistent with the Rural Revitalization Policy, which aims to increase support for farmers, improve their ability to participate in modernization and enhance their sense of gain, happiness, and security.
慢村理念
Slow Village Concept
慢村项目(slow village)是针对历史文化明村、传统村落和少数民族特色村寨开展的一项村落共建计划,旨在对具有一定区位和物流条件,有一定规模的食材产出和文化特色,周边配套,但缺乏合理开发,需要新功能植入的村落进行共建开发,通过一体的、现代的、科学的规划、设计、营销和运营,全面提升村落本身的生产和居住条件,并力求将村落打造成一个旅游目的地,进入到一个良性的循环中。
Slow Village Project is a village co-construction program for historical and cultural Ming Village, traditional villages, and villages with ethnic minority characteristics, aiming at the co-construction and development of villages with a certain location and logistic conditions, a certain scale of output of ingredients and cultural characteristics, and surrounding support, but lack of reasonable development and the need for new functions to be implanted, through integrated, modern and scientific planning, design, marketing, and operation, to comprehensively improve the production and living conditions of the village itself, and seek to turn the village into a tourist destination and enter into a virtuous cycle.
在慢村理念的指导下,团队将建立一个专门致力于粮食生产的农业生态区,该区域将结合意大利的有机耕作方式,与中国的传统技术和当地的种子,以此保护生物的多样性和确保高生产效率。此概念将贯彻于整个供应链中,从高级研究,到生产计划,到成品营销,均采用环保的技术和方法。
Creation of an agricultural-ecological district dedicated to the production of food that will use Italian organic farming methodologies, combined with traditional Chinese methods and original native seeds, which will safeguard the preservation biodiversity and will ensure high production efficiency. The concept would cover the whole supply chain, from advanced research, to planning the production, to marketing the finished products, with environmental friendly technologies and methodologies.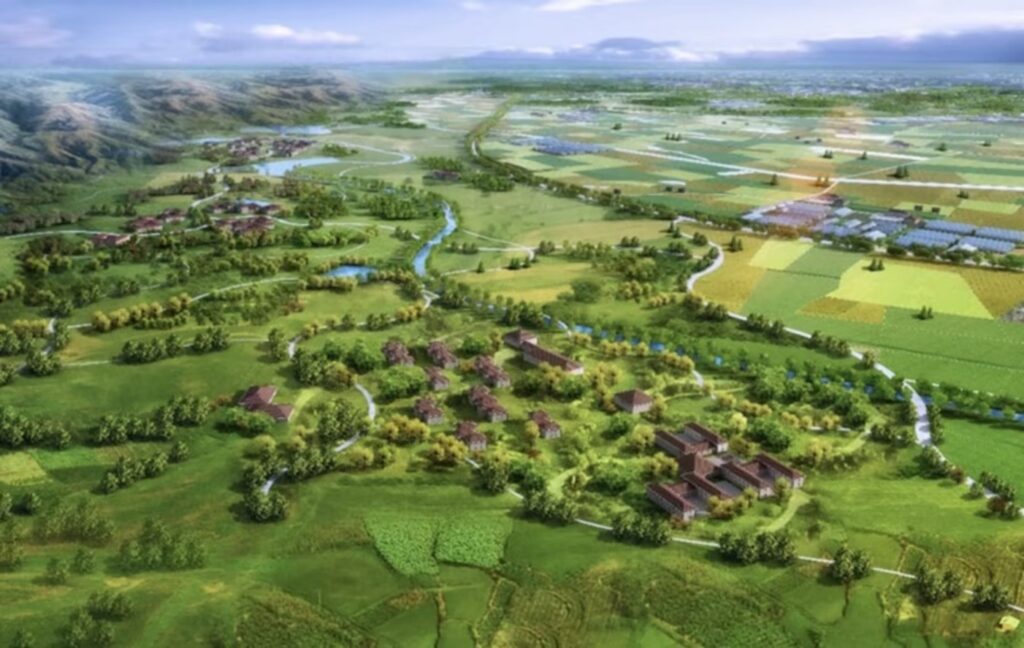 仲欧脱碳科技与慢食的合作
Cooperation between CNEUCN & Slow Food Greater China
目前,国际慢食协会大中华区及其官方运营机构北京慢食文化已正式授权仲欧脱碳科技,在中国大陆对满足慢村要求的村落进行初步调研、筛选等工作。仲欧脱碳科技将发挥其在中国和欧洲的资源网络,为慢村项目提供支持,为项目的后续落地提供各类支持工作,凭借其专业的碳中和知识和专家资源储备,以期能够让项目在环保方面达到最佳效果。
Recently, Slow Food Greater China Association and its official operating agency, Beijing Slow Food Cultural Development, and China Europe Carbon Neutral agreed to mandate to make cooperate on the preliminary research and screening of villages, in Mainland China, as well as the other supporting activities in the further development stages.
CNEUCN will provide its experts professional and technical support to implement the Slow Village concept by the best expertise and cutting-edge equipment which can ensure the highest performance in term of environmental protection.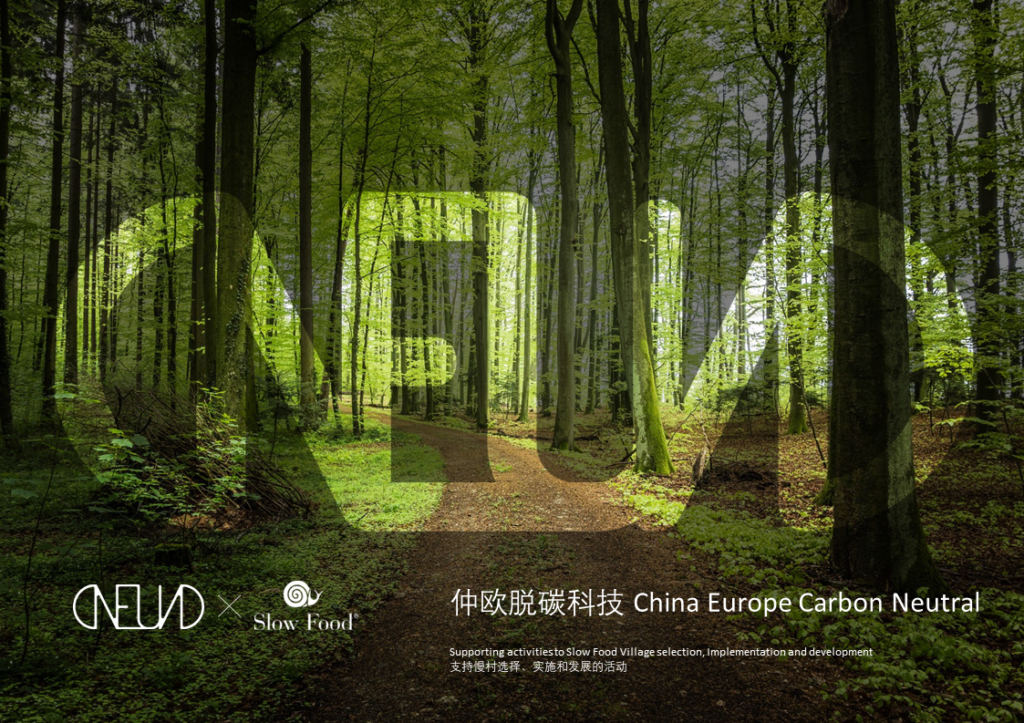 此外,仲欧脱碳科技还将共同参与到与慢食相关的各类展会、论坛等活动中去,在当前"碳中和"的大趋势,大背景下,将"减碳"等碳中和理念与慢食秉承的理念所结合,共同为中国的乡村振兴工作添砖加瓦。
In addition, CNEUCN will also cooperate participating with Slow Food Greater China in various exhibitions, forums and other activities. Aligned with the current China "Dual Carbon" strategy, CNEUCN will integrate concept such as "carbon reduction" with the development of Slow Food's project, and work together to contribute to the revitalization of the countryside in China.
如想了解更多信息和更多详情,请联系: [email protected]
For more information and further details please write to: [email protected]
仲欧脱碳科技有限公司中欧碳中和可持续城市发展平台项目将由为此项目成立的同名私营公司运营,旨在通过聚集各方优势,针对每一个课题制定出量身打造的解决方案,以全面和包容的工作方式为中国和欧洲的碳中和之路添砖加瓦。
仲欧脱碳科技 有限公司该平台将发挥积极和创新的作用,为实现碳中和所需的构想、塑造、设计和实现转型提供服务。
China Europe Carbon Neutral Technology aims to support and substantially contribute to China and Europe path towards carbon neutrality in a holistic and inclusive way by gathering all the stakeholders and creating solutions for each challenge.
China Europe Carbon Neutral Technology will play an active and innovative role in providing services to conceive, shape, design and accomplish the transitions needed to achieve carbon neutrality.
Cover pic: