11月15日,仲欧脱碳科技与战略合作伙伴国际慢食协会大中华区秘书长孙群先生一行,考察了四川省遂宁市船山区永和现代农业产业园。
实地考察的目的是查看项目成果,了解下一个发展阶段是否符合可持续发展和乡村振兴原则。
这是遂宁市与仲欧脱碳科技对话的基础性一步,旨在建立长期的战略合作关系,大力发展以船山区永和现代农业产业园、能源自然资源和碳中和试点区域为起点的合作。
On November 15th, China Europe Carbon Neutral together with its strategic partner, Slow Food Greater China, represented by Secretary General Mr.Sun Qun, visited to Yonghe Morden Agricultural Industrial Park in Chuanshan District, Suining, Sichuan.
The site visit aimed to see the project achievements and learn about next development stage aligned with sustainable development and rural revitalization principles.
It was a fundamental step ahead in the dialogue between Suining city and CNEUCN with the aim to establish a long-term strategic relationship and vigorously develop a cooperation starting from Yonghe Modern Agricultural Industrial Park in Chuanshan District, the energy natural resources and a pilot carbon neutral area.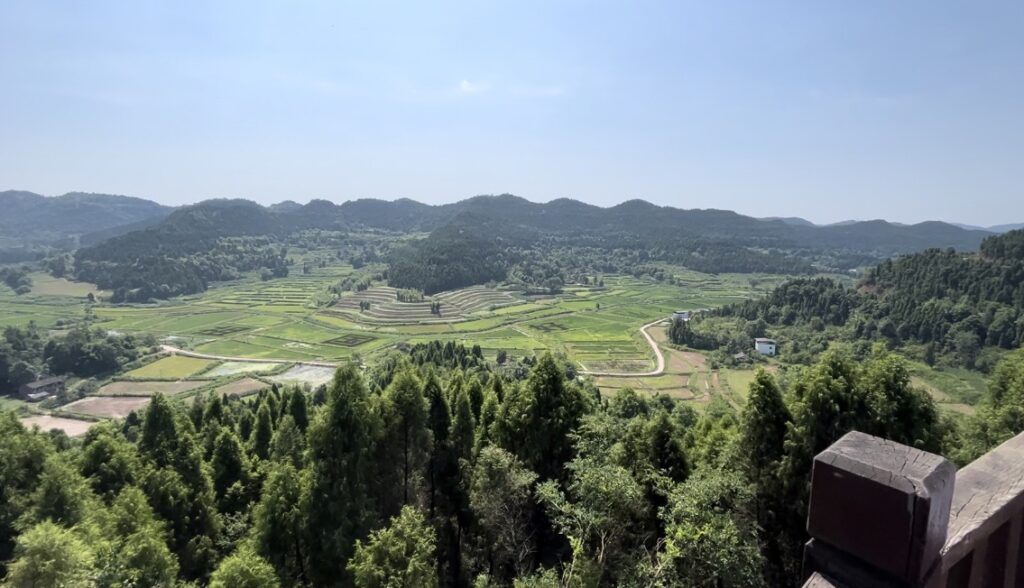 永和家园(原船山区永河现代农业园)于2014年启动建设,总规划面积160平方公里,涵盖永兴镇、河沙镇、仁里镇3个乡镇。园区核心区规划面积27平方公里,依托地理条件及交通区位优势,形成了"一环、三区、八大组团"总体布局。
Yonghe Homeland (formerly Yonghe Modern Agricultural Park in Chuanshan District) started construction in 2014, with a total planned area of 160 square kilometers, covering three townships of Yongxing Town, Hesha Town and Renli Town. The planned area of the core area of  the park is 27 square kilometers. Relying on geographical conditions and transportation advantages, an overall layout of "one ring, three districts, and eight major groups" has been formed.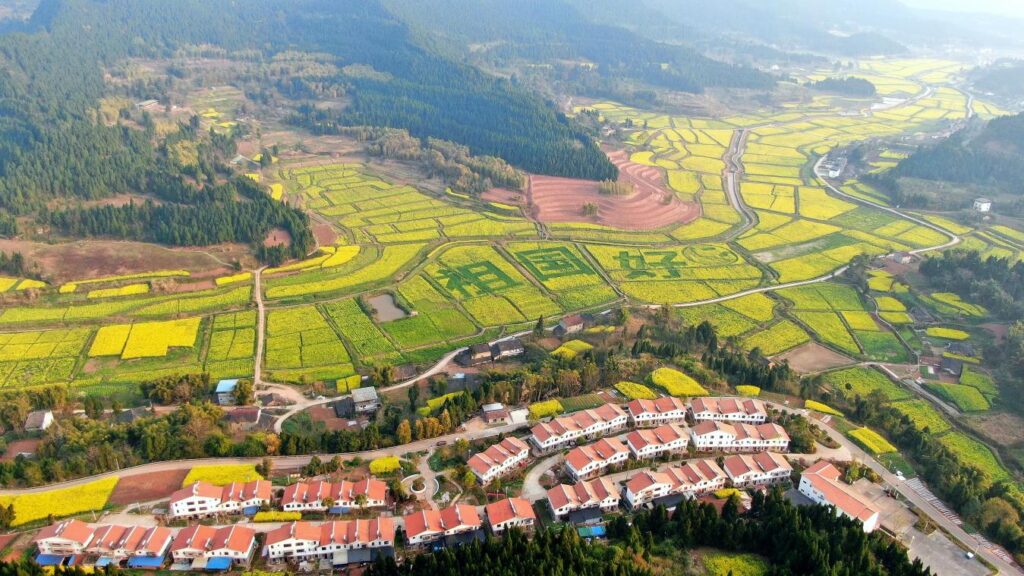 近年来,船山区深入实施乡村振兴战略,对标"三主""五化""六品"(主导、主抓、主推,大地景观化、农村田园化、庭院果蔬化、产业特色化、城乡一体化,品种优、品味佳、品相美、品质好、品系全、品牌响)思路,坚持"农业本底、乡村本味、山水本色"理念,按照"一年建核心、两年见成效、三年成标杆"时序,强力推进永和家园建设,着力打造耕地保护示范、产业发展示范、集体经济示范、人居环境示范、党的建设示范,积极争创全省乡村振兴成效显著县。
In recent years, Chuanshan District has implemented the strategy of rural revitalization in depth, benchmarking the "three majors", "five modernizations" and "six products" (leading, focusing, and promoting, land landscape, rural pastoral, courtyard fruit and vegetable, industrial characteristics, urban and rural Integration, excellent varieties, good taste, beautiful appearance, good quality, complete varieties, and famous brand) ideas, adhere to the concept of "agricultural background, rural flavor, and natural colors of mountains and rivers", and follow the principle of "building the core in one year and achieving results in two years In the sequence of "becoming a benchmark in three years", vigorously promote the construction of Yonghe Homeland, strive to create demonstrations of farmland protection, industrial development, collective economy, living environment, and party building, and actively strive to create counties with remarkable results in rural revitalization in the province.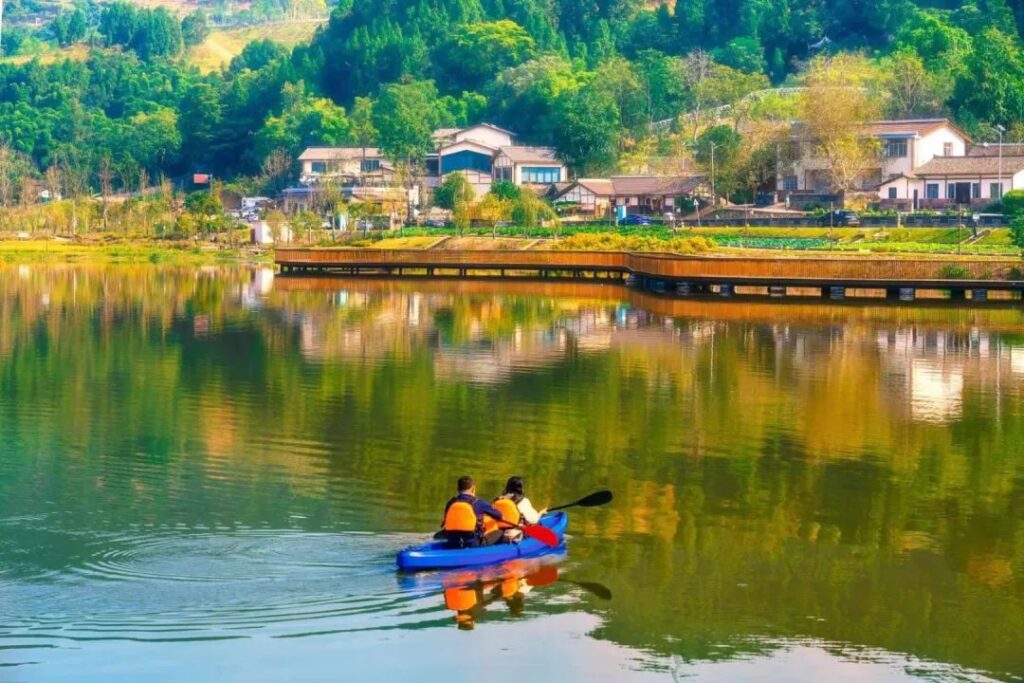 园区以"农文旅融合发展先行区、都市田园综合体"为总体定位,以粮油、经果、特色水产为主导,围绕318主题规划"三区、一环、八大组团",大力发展乡村旅游、民宿康养、研学实践等产业,拟投资5亿元,建设涵盖基础设施、新村建设、环境整治、民宿聚落、产业发展等系列重大项目,今年上半年累计实施重点项目47个,完成投资2.4亿元。其中,投资1亿元建设的课耕山居古村落和投资1.5亿元的青少年综合实践基地将于年底前精彩呈现,投资500万元的非物质文化遗产研学传习中心和投资1600万元的秦汉马场正在加快建设。C234美丽乡村旅游路、黄家湾新村"庭院果蔬化"提升、凤凰湖精品院落建设等项目已基本完成。
The park takes "a pioneering area for the integrated development of agriculture, culture and tourism, and an urban pastoral complex" as the overall orientation, and is dominated by grain, oil, economics and fruits, and characteristic aquatic products. It plans "three districts, one ring, and eight major groups" around the theme of 318, and vigorously develops rural tourism. It plans to invest 500 million yuan in industries such as homestay, health care, research and practice, and build a series of major projects covering infrastructure, new village construction, environmental improvement, homestay settlements, and industrial development. In the first half of this year, a total of 47 key projects were implemented, with an investment of 2.4 billion.
Among them, the ancient village of Kegengshanju with an investment of 100 million yuan and the comprehensive practice base for teenagers with an investment of 150 million yuan will be presented before the end of the year. Construction is being accelerated. Projects such as C234 Beautiful Countryside Tourist Road, Huangjiawan New Village's "Fruit and Vegetable Courtyard" upgrade, and Phoenix Lake boutique courtyard construction have been basically completed.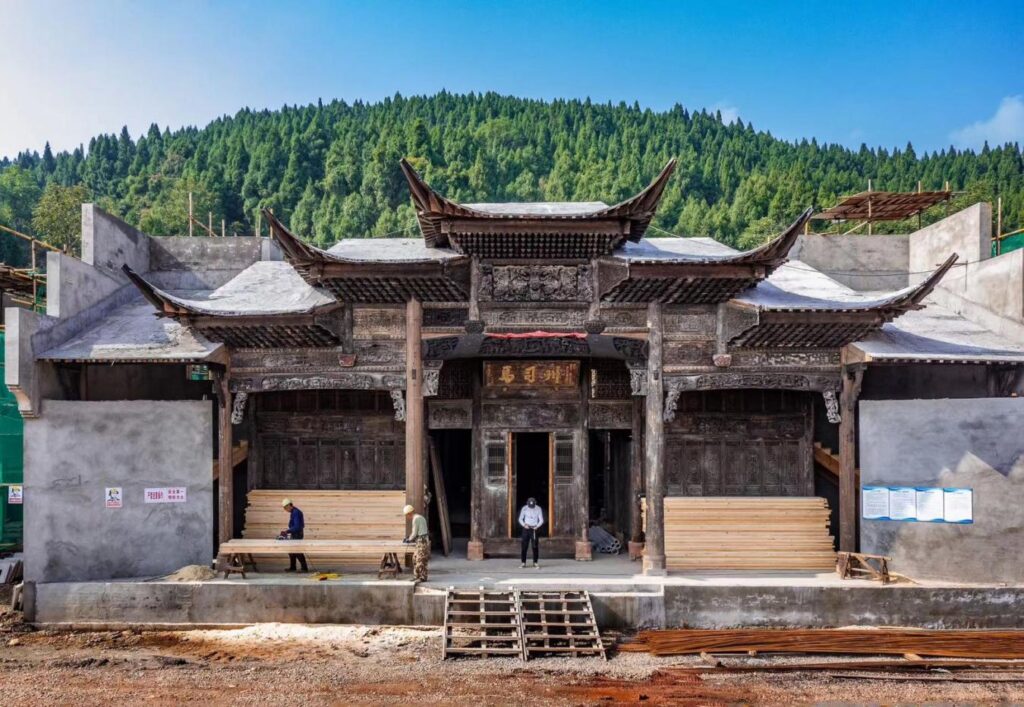 END
如想了解更多信息和更多详情,请联系 [email protected]
For more information and further details please write to: [email protected]
​
仲欧脱碳科技有限公司中欧碳中和可持续城市发展平台项目将由为此项目成立的同名私营公司运营,旨在通过聚集各方优势,针对每一个课题制定出量身打造的解决方案,以全面和包容的工作方式为中国的碳中和之路添砖加瓦。
仲欧脱碳科技 有限公司该平台将发挥积极和创新的作用,为实现碳中和所需的构想、塑造、设计和实现转型提供服务。
China Europe Carbon Neutral Technology aims to support and substantially contribute to China's path towards carbon neutrality in a holistic and inclusive way by gathering all the stakeholders and creating solutions for each challenge.
China Europe Carbon Neutral Technology will play an active and innovative role in providing services to conceive, shape, design and accomplish the transitions needed to achieve carbon neutrality.