10月24日,伏图拉中国总部和研发生产基地项目签约仪式在苏州市吴中区举行。​
伏图拉是仲欧脱碳科技业务合作伙伴,是欧洲领先的光伏企业,也是唯一一家位于中国的光伏企业。其在吴中区的新中国总部,必将为吴中区新能源产业的发展注入新动能。
On October 24th, the signing ceremony of Futura Sun China Headquarters and R&D production-based Project was held in Suzhou Wuzhong District.
Futura Sun, a China Europe Carbon Neutral cooperation partner, is a leading European photovoltaic enterprise as well as the only one based in China. Its new China Headquarters in Wuzhong district, will definitely inject new momentum into the development of Wuzhong District's new energy industry.
意大利驻沪总领事馆商务领事艾珊, 区委书记丁立新, 区委常委、常务副区长、吴中高新区党工委书记张华谦, 伏图拉首席运营官兼联合创始人徐宁, 仲欧脱碳科技总裁 Massimo Bagnasco;副区长李烨,市商务局局长孙建江,市能源集团董事长王晨共同出席现场活动。意大利伏图拉总裁兼联合创始人林宸以线上方式参加活动。Ms. Alessandra Palumbo, Commercial Consul in Consulate General of Italy in Shanghai, Ding Lixin, District Party Secretary, Zhang Huaqian, Member of the Standing Committee of the District Committee, Executive Deputy District Chief, Secretary of the Party Working Committee of Wuzhong High-tech Zone, Xu Ning COO and co-founder of Futura Sun, Massimo Bagnasco, CEO of China Europe Carbon Neutral Technology (CNEUCN) , Li Ye, Deputy District Chief, Sun Jianjiang, director of the Municipal Bureau of Commerce, Wang Chen, Chairman of City Energy Group attended the on-site activities. Alessandro Barin, CEO and co-founder of Futura Sun, participated to the event online.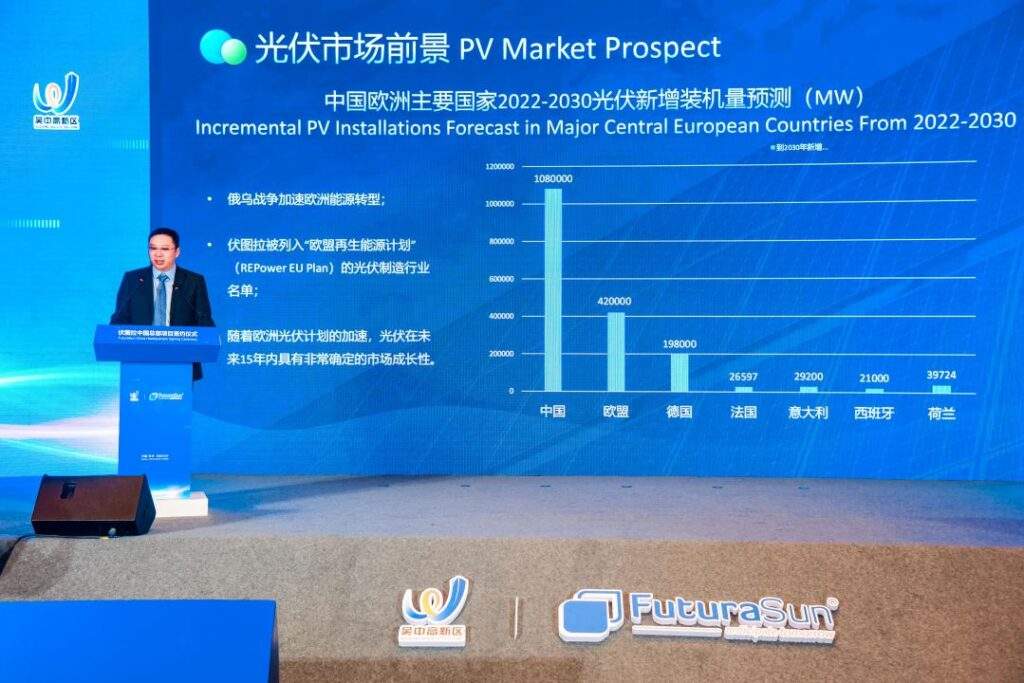 在论坛期间,徐宁先生表示,作为一名光伏行业十余年的从业者,伏图拉和我共同见证了光伏行业的风云变幻。过程中,伏图拉不断转型突破,不断迈向新的台阶。此次与吴中区政府开展深度合作,对伏图拉而言具有里程碑意义。期待双方精诚合作,携手共进、共创未来。
Along the Forum, Mr. Xu Ning said that as a member of the photovoltaic industry and as practitioner for more than ten years, Futura Sun has demonstrated the changes in the photovoltaic industry. During the process, Futura Sun continued to transform, make breakthroughs, and continued to move to a new level. This in-depth cooperation with the Wuzhong District Government is a milestone for Futura Sun.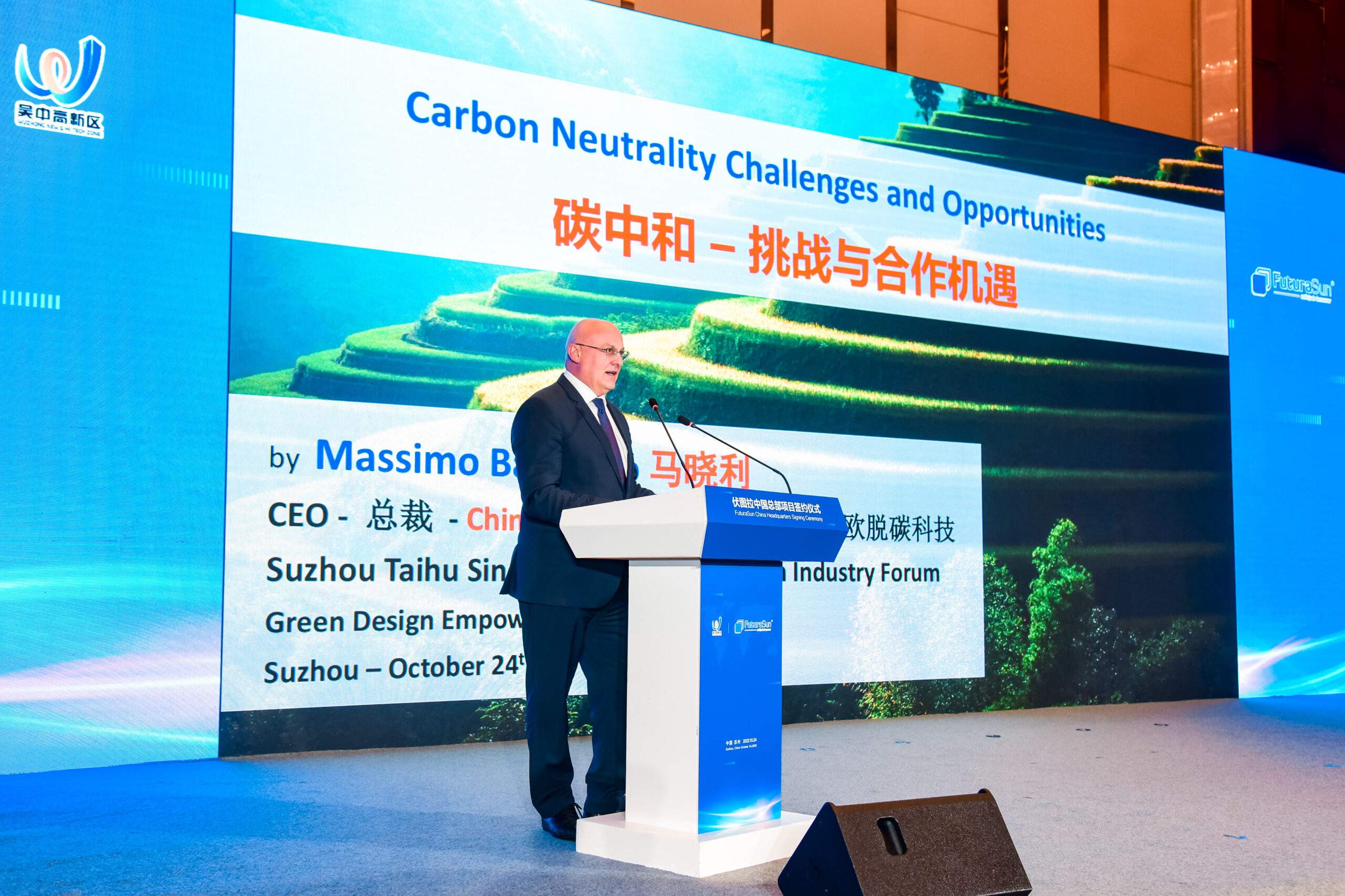 在"中欧零碳现状及经验探讨"议题中,仲欧脱碳科技总裁兼创始人Massimo Bagnasco畅谈碳中和的挑战与合作机遇。Bagnasco 先生在讲话中强调了中国在脱碳道路上面临的挑战,例如:缺乏控制工厂和建筑能源强度的综合框架,以及缺乏足够的基础设施,中国对煤炭的高度依赖仍然是对碳中和目标、能源短缺的重大威胁。Bagnasco先生提到脱碳已是中欧合作的关键议题. 中国和欧洲都对脱碳制定了严格的目标并做出了正式承诺。所以我们需要改善基础设施和建筑的质量,然后是初步的也是最重要的步骤——调整国家的能源结构。最重要的是需要整体的、系统性的脱碳方法, 仅仅依靠技术手段,是无法保证能够实现脱碳目标。
On the topic of "China-EU Zero Carbon Status Quo and Experience ", Massimo Bagnasco, CEO of China Europe Carbon Neutral Technology (CNEUCN) talked about the opportunities and challenges of carbon neutrality. Along his speech Mr. Bagnasco underlined the challenges that China is facing toward the decarbonization path such as: lack of a comprehensive framework to control energy intensity, energy shortage, and China's high dependence on coal remains a substantial threat to the carbon neutrality target.
Mr. Bagnasco mentioned that decarbonization is already a key topic for China-EU cooperation. Both China and Europe have set strict targets and made formal commitments to decarbonization. Therefore, there is the  need to improve the quality of infrastructure and buildings, and adjusting the country's energy mix. Most importantly, a holistic and systematic approach to decarbonization is required. Relying solely on technical without defining in advance a clear strategy and path cannot guarantee the achievement of decarbonization goals.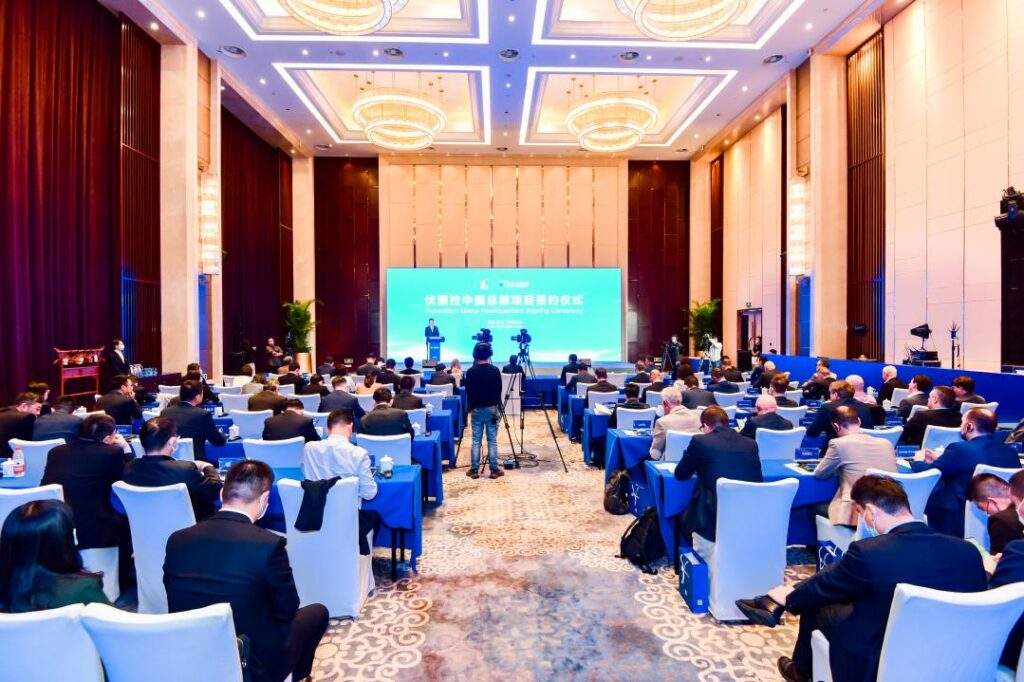 签约仪式后,东南大学能源与环境学院教授王培红,江苏省工程咨询中心能源处处长林江刚分别围绕《光伏在双碳机遇的作用》《加强可再生能源建设,助推"双碳"目标实现》作了主题分享。
After the signing ceremony, Professor Wang Peihong, School of Energy and Environment, Southeast University, and Lin Jianggang, Director of Energy Department of Jiangsu Engineering Consulting Center, respectively focused on "The Role of Photovoltaic in Double-Carbon Opportunities" and "Strengthening Renewable Energy Construction and Boosting the Realization of "Dual-Carbon" Goals themes sharing.
END
如想了解更多信息和更多详情,请联系 [email protected]
For more information and further details please write to: [email protected]
​
仲欧脱碳科技有限公司中欧碳中和可持续城市发展平台项目将由为此项目成立的同名私营公司运营,旨在通过聚集各方优势,针对每一个课题制定出量身打造的解决方案,以全面和包容的工作方式为中国的碳中和之路添砖加瓦。
仲欧脱碳科技 有限公司该平台将发挥积极和创新的作用,为实现碳中和所需的构想、塑造、设计和实现转型提供服务。
China Europe Carbon Neutral Technology aims to support and substantially contribute to China's path towards carbon neutrality in a holistic and inclusive way by gathering all the stakeholders and creating solutions for each challenge.
China Europe Carbon Neutral Technology will play an active and innovative role in providing services to conceive, shape, design and accomplish the transitions needed to achieve carbon neutrality.