China-Europe Cooperation on innovative Carbon Solutions in Industrial Parks

On Wednesday, March 23rd, it was held the webinar "China-Europe Cooperation on innovative Carbon Solutions in Industrial Parks", organized by China Europe Carbon Neutral and Green Partnership of Industrial Parks.
The event aimed to provide preliminary technical information and training to officials and developers, increase their awareness about innovative solutions, integrated approaches, linked to the target to reach carbon neutrality and sustainable development.
The first speaker was Massimo Bagnasco, CEO and Founder of China Europe Carbon Neutral (CNEUCN). In his speech he introduced the current state of China and Europe in terms of carbon neutrality, addressing the peculiarities of the situation of the energy transition in Europe and China, highlighting all the opportunities for cooperation between China and Europe and how they should cooperate to achieve an energy transition and a carbon neutral society and economy.
As Bagnasco underlined: "We focus on a new economic and industrial solution that becomes a new model to attract foreign industries to invest understood as the creation of new energy, mobility, waste, water, building solution that will be advantageous to achieve the carbon objective of neutrality, as well as a sustainable economic development model with new jobs and even tax revenues."
He introduced CNEUCN background and the mission which synergically match with the new development zone targets. already been able to aggregate comprehensive competences for addressing new urban development priorities, identified and integrated technologies, processes, models and methodologies to exploit its own and partners' experiences and competencies perfectly for localized solutions.
Adding the unique capability of the Italian culture to harmonize beauty, technology and human centered solutions, CNEUCN aims to provide economic, industrial and integrated planning concepts for: new area (urban, district, compound); regeneration of existing urban areas, rural rejuvenation (agriculture upgrading, improvement of living and economic conditions, culture and tradition preservation).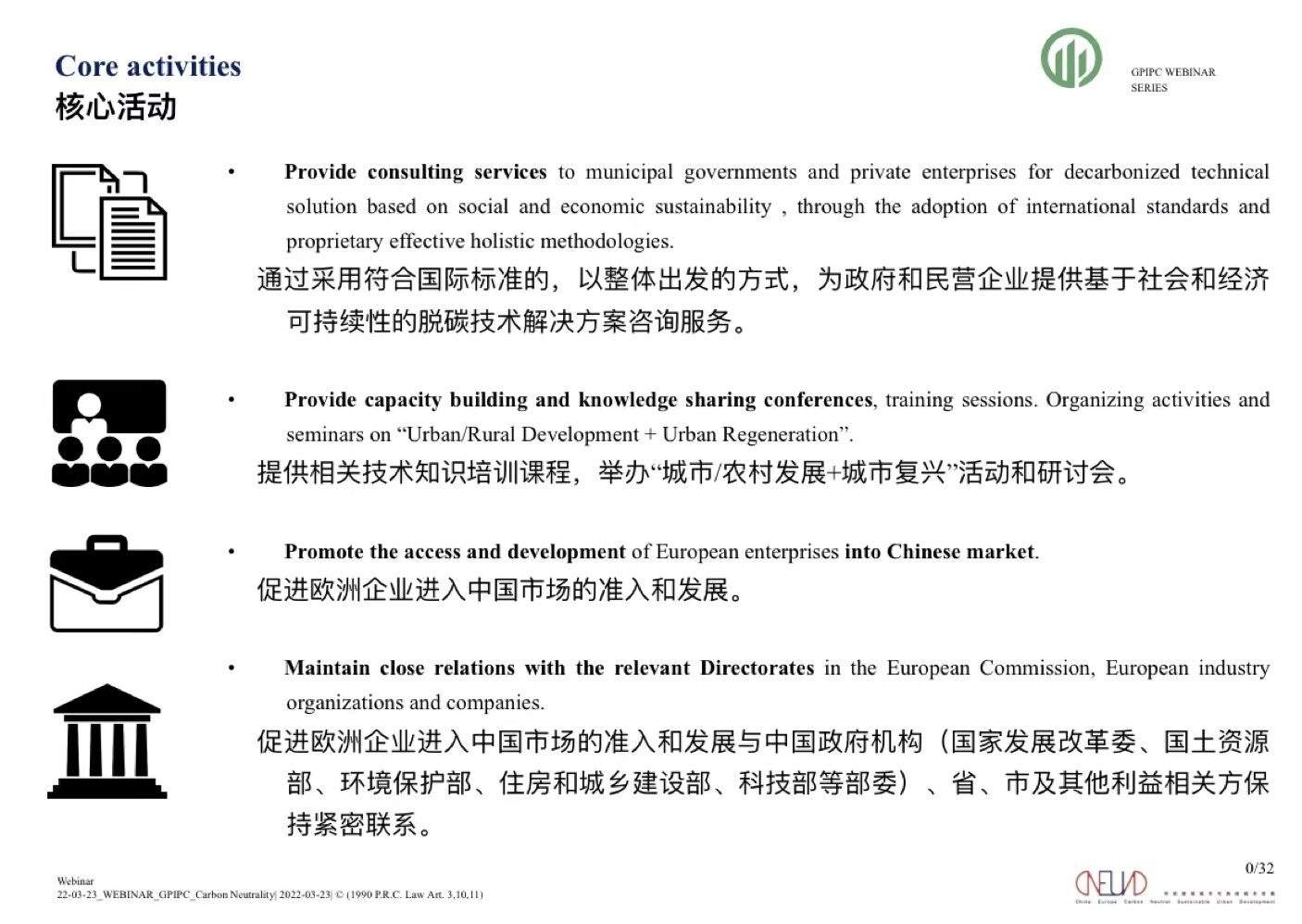 The second speaker, Guido Giacconi, president of In3act, underlined the importance of integrating the technologies we have available on the market into the local ecosystem and integrating them into the global plan, which can help us to better achieve carbon neutrality. He also addressed the importance of achieving carbon neutrality in industrial parks, as Giacconi quotes: "Now, in China, we have some certified zero-carbon industrial parks, which can attract huge investment from the EU and foreign companies from countries, with strict carbon neutrality commitments. If we can get the zero-carbon certification, it will have a great attraction.
Moreover, the realization of zero-carbon certification will allow companies in the park to deal with the EU's carbon tariff, which means that products from outside the EU may have to pay carbon tariff in the import process if they do not comply with the EU's relevant policies on environmental protection and carbon emission."
The last speaker, Zhao Jinyan, founder of Active House China. Zhao stressed the importance of achieve carbon neutrality in our daily life, in specific he highlighted the need to creates buildings that meet the requirements of green, nature, low-carbon and sustainability. Buildings should be an organic living body, that throughout the interaction between the internal environment and the external environment can least energy consumption to meet the standard of health and comfort. as Zhao mentioned: "Energy is an issue that all buildings need to pay attention to. From the perspective of future development, we hope that buildings are not only energy consumers, but also energy producers. We encourage full life cycle energy solutions. From the selection of materials at the beginning of construction to the final disintegration of buildings, we should use the phenomenon of full life cycle, recyclability and sustainability."  
The webinar was followed by nearly 200 participants including several delegates of economic development zones and representatives of industries in various sectors. 
For more information and further details please contact Ms. Simona Yang, email: [email protected]
China Europe Carbon Neutral Technology aims to support and substantially contribute to China's path towards carbon neutrality in a holistic and inclusive way by gathering all the stakeholders and creating solutions for each challenge. 
China Europe Carbon Neutral Technology will play an active and innovative role in providing services to conceive, shape, design and accomplish the transitions needed to achieve carbon neutrality.