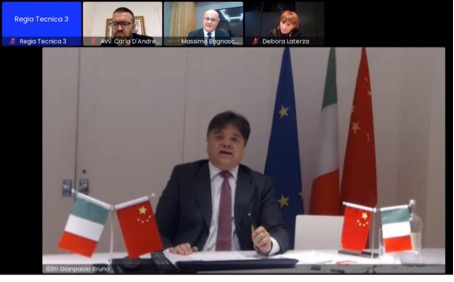 12 月 14 日,ICE – ITA 意大利对外贸易委员会组织举办了关于中国建筑市场报告的网络研讨会。意大利对外贸易委员会北京办事处首席代表暨ICE中国区及蒙古国总协调官 Gianpaolo Bruno 先生,仲欧脱碳科技总裁 Massimo Bagnasco 先生,ICE 知识产权服务台协调员 Carlo D'Andrea 先生和 IRIS Ceramica Group 市场总监 Debora Laterza 女士共同出席了网络研讨会。
On December 14th, it was organized by ICE – ITA (Italian Trade Agency) a webinar presentation of the report about the Chinese construction market. Mr. Gianpaolo Bruno, Director of ICE Beijing & Coordinator of ICE Offices in China and Mongolia, Mr. Massimo Bagnasco, CEO of China Europe Carbon Neutral, Mr. Carlo D'Andrea, ICE IPR Desk Coordinator, and Mrs Debora Laterza, Marketing Director of IRIS Ceramica Group, jointly attended the webinar.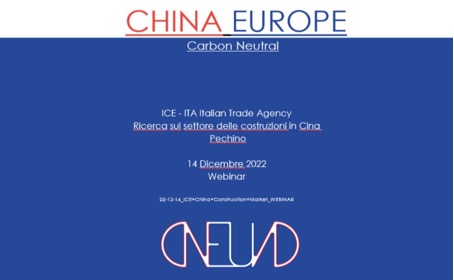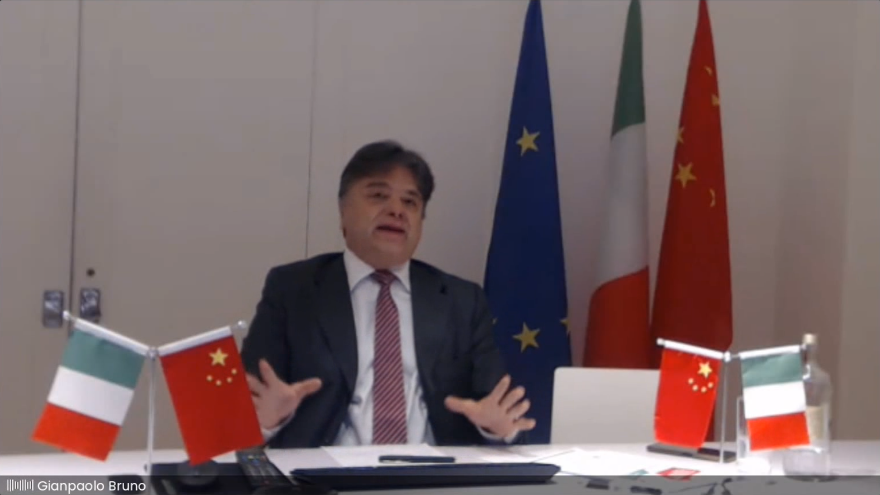 Bruno先生介绍了中国建筑市场。 2021年,中国建筑业附加值占GDP比重达到25.9%。该行业从业人员约5200万人。建筑业被确认为中国经济发展过程中的基本支柱。这是一个更加成熟和更具挑战性的市场,但对于活跃在这些领域的几家意大利公司来说,它仍然有很大的机会。
Mr. Bruno, gave an introduction on the Chinese construction market. In 2021, the added value of China's construction industry reached 25.9% of GDP. The industry employee were about 52 million people. The construction industry confirmed to be a basic pillar in the process of China's economic development. It is a more mature and challenging market, but it has still great opportunities for several Italian companies active in these field.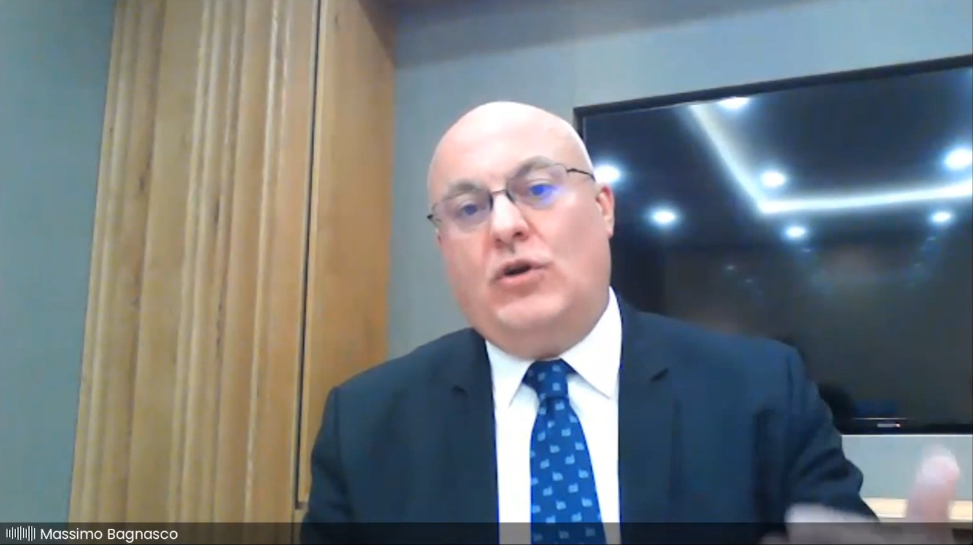 Bagnasco 先生简要介绍了涵盖整个建筑行业(专业服务提供商、基础设施、土木建筑和室内装饰)的研究,并概述了进一步的发展。
他演讲的重点包括:
· 尽管政府干预可能导致中国建筑业经历波动和不平等的增长路径,但它仍然是中国国内经济的支柱产业,是任何有国际抱负的公司都不应忽视的市场。
· 市场是巨大的,但基本上,高端细分市场匹配并且可以成为意大利公司的目标。
· 市场动态总是在发展,需要不断更新中国战略。
· 尽管增长率很高,但进入中国市场对外国公司来说仍然是一个巨大的挑战。它需要良好的计划、时间安排和有效的业务合作伙伴选择。
· 新来者应做好充分准备,随时准备投资并保持弹性。
· 要抓住中国提供的机会,应该确定哪种方式最适合进入市场并通过强大的定位在本地发展业务。
Mr. Bagnasco, gave a brief introduction of the study which covers the overall construction sector (professional service providers, infrastructures, civil construction and interior decoration) and an overview about the further development.
Among the key addressing of his presentation:
· Although government intervention may cause the Chinese construction sector to experience fluctuations and unequal growth paths, it remains a pillar industry of the domestic economy and represents a market which should not be ignored by any company with international ambitions.
· The market is immense but, basically, the high-end segments match and can be targeted by Italian companies.
· The market dynamics are always under development and it requires continuous update of the China strategy.
· Despite high growth rates, entering the Chinese market remains an enormous challenge for foreign companies. It requires good planning, timing and an effective choice of business partner.
· New comers should be well prepared, ready to invest and to be resilient along the time.
· To seize the opportunities that China offers, it should be defined which is the most suitable way to approach the market and locally develop the business by a strong positioning.

· 意大利公司应该专注于设计他们的主张,而不仅仅是"奢侈品" 这个关键话题,同时考虑与"身心健康"相关的"质量、可持续性、生活方式(意大利人)、耐用性、优雅",以及"幸福"的附加值。
· 综合全面的服务/供应解决方案最受中国市场的欢迎,中国市场传统上一直在寻找大型企业,为"客户"提供全面服务、公司声誉、充足的资源和适当的技能提供信心。
· 赋予 B2B 渠道特权。
· 推广新的虚拟平台和新技术趋势(特别是"仅限会员"平台以开发新的 B2B 商机。
· 意大利工程师和建筑师在协调具有特定专业技能的不同团队方面的能力在世界上名列前茅。它们是供应链的第一环,可以在开辟新机遇方面发挥基础性作用。
· 利用意大利制造在该行业的定位和现有的集体推广活动(如 Salone del Mobile)
· Italian companies should focus on designing their proposition not just on the "luxury" key topic, while considering "quality, sustainability, lifestyle (Italian), durability, elegance," related to "psycho-physical well-being" and, therefore, the added value of "well- being".
· Integrated and comprehensive service/supply solution are the most welcomed by Chinese market which is traditionally looking for large players which provide to the "customer" confidence about overall service provision, company reputation, sufficient resources and proper skills.
· Privilege the B2B channels.
· Promote new virtual platforms and new technological trends (in particular "members only" platform to develop new B2B business opportunities
· Italian engineers and architects are among the best in the world for their ability to coordinate different teams with specific professional skills. They are the first ring of the supply chain and they can play a fundamental role in opening up new opportunities.
· Leverage the made-in-Italy positioning in the sector and the existing collective promotion activities (such as Salone del Mobile)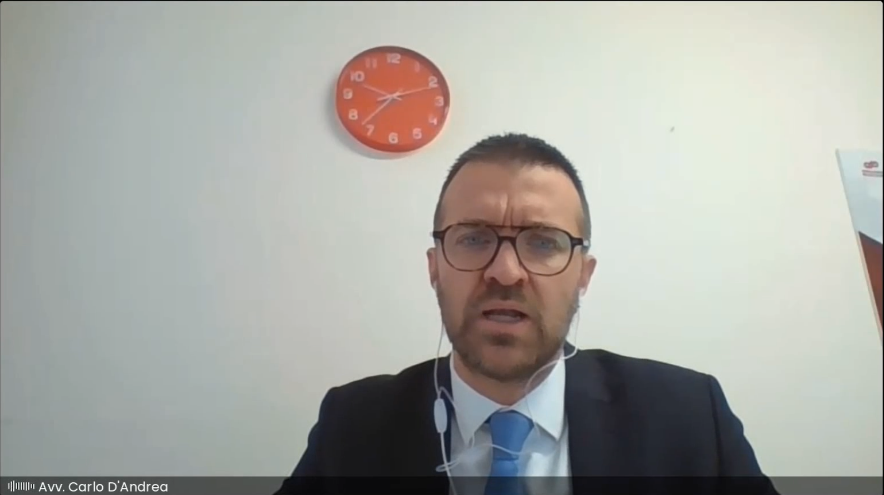 D'Andrea先生详细介绍了知识产权和商标保护方面最常见的挑战。他提出了从第一步进入中国市场后应采取的根本行动。
Mr. D'Andrea, gave a detailed introduction about the most common challenges in term of IP and trademark protection. He provided advices about fundamental action to be taken since the first step approaching China's market.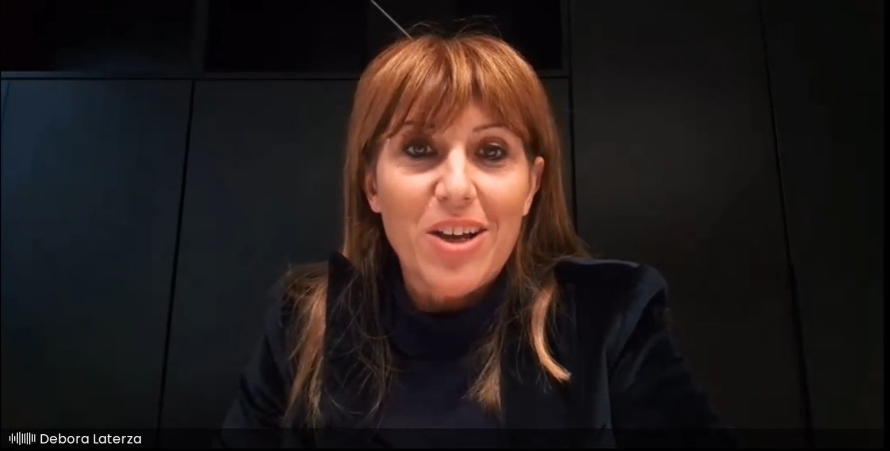 Debora Laterza女士介绍了Iris Ceramica Group在中国的长期经验。
她解释了其集团通过几个步骤采取的渐进方法,这有助于在这个巨大而竞争激烈的市场中进行深入和完善的整合。
Mrs. Debora Laterza, introduced the long-standing experience in China of Iris Ceramica Group.
She explained the progressive approach, made by several steps, taken by its Group which facilitated a deep and well-established consolidation in this huge while very competitive market.
END
如想了解更多信息和更多详情,请联系: [email protected]
For more information and further details please write to: [email protected]
​
仲欧脱碳科技有限公司中欧碳中和可持续城市发展平台项目将由为此项目成立的同名私营公司运营,旨在通过聚集各方优势,针对每一个课题制定出量身打造的解决方案,以全面和包容的工作方式为中国的碳中和之路添砖加瓦。
仲欧脱碳科技 有限公司该平台将发挥积极和创新的作用,为实现碳中和所需的构想、塑造、设计和实现转型提供服务。
China Europe Carbon Neutral Technology aims to support and substantially contribute to China's path towards carbon neutrality in a holistic and inclusive way by gathering all the stakeholders and creating solutions for each challenge.
China Europe Carbon Neutral Technology will play an active and innovative role in providing services to conceive, shape, design and accomplish the transitions needed to achieve carbon neutrality.